The external affairs minister said that her deputy General VK Singh (retired) would travel to Iraq to bring back the remains on a special plane.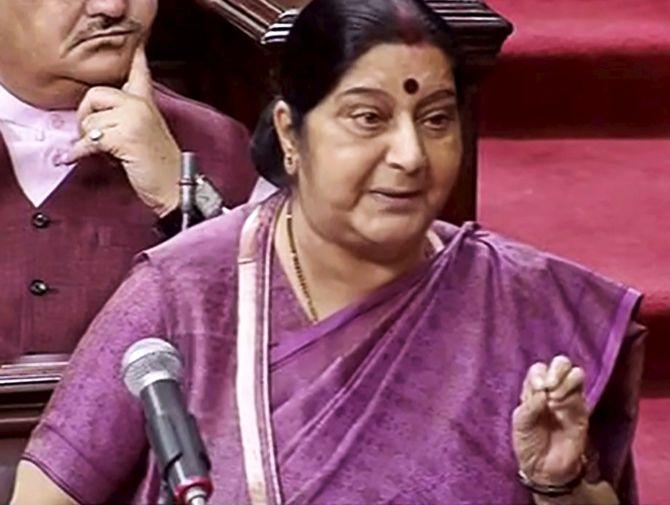 All the 39 Indians abducted by the Islamic State terror outfit in Mosul in Iraq three years ago are dead and their bodies have been recovered, External Affairs Minister Sushma Swaraj said on Tuesday.
While it was not immediately known when the Indians were killed, their bodies were recovered from Badosh -- a village in northwest of Mosul, and their identities established through DNA testing, she said making a suo motu statement in the Rajya Sabha.
The mortal remains, which were exhumed from a mass grave in Badosh, will be brought back to India on a special plane and handed over to their relatives, she said.
"I had said that I will not declare anyone dead without substantive proof... today I have come to fulfil that commitment," she said.
"I had said that closure will be done with full proof. And when we will, with a heavy heart, give the mortal remains to their kin, it will be a kind of closure."
A group of 40 Indian workers, mostly from Punjab, and some Bangladeshi were taken hostage by the Islamic State when it overran Iraq's second largest city Mosul in 2014.
Of the 40 Indians, one Harjit Masih from Gurdaspur had managed to escape and had claimed to have witnessed the massacre of the others. But the government rejected it.
"His was a cock-and-bull story," Swaraj said adding he had managed to flee the IS by faking his identity as a Muslim from Bangladesh.
May take around 10 days to bring bodies: Singh
It may take up to 10 days to bring back the bodies of all 39 Indians killed in Iraq as there will be legal processes involved, Minister of State for External Affairs V K Singh said.
"There will be legal processes. We are waiting for information from there (Iraq). It may take 8-10 days (to bring back the bodies)," Singh told reporters outside Parliament.
Singh, who had visited Iraq several times to find out the details of the Indians abducted in 2014, also took a potshot at opposition parties for targeting Swaraj on the issue.
"The external affairs minister had said that they (the Indians) will not be declared dead without proof and she kept her words. Opposition takes things in a different way. You have seen it in Lok Sabha," he said.
Singh said the government tried everything possible to verify the details relating to the Indians.
The Indians were first kept at a textile factory in Mosul and after Masih escaped, they were moved to a prison in Badosh.
Relentless searches for them led to a mass grave in Badosh, where deep penetration radar was used to establish the presence of bodies below a mound. The bodies, which were exhumed with help from Iraqi authorities, had distinctive features like long hair, 'kada', non-Iraqi shoes and IDs.
The bodies were sent to Baghdad for DNA testing.
The government was told on Monday that the DNA of 38 Indians matched with the remains of bodies found. One body was a 70 per cent match, she said.
Swaraj said she has previously maintained that the abducted Indians would not be declared dead without substantive proof.
Now, there is proof, she said.
Giving details, she said when IS overan Mosul, most Iraqis left the city but Indian and Bangladeshi workers stayed back.
Inquiries from a caterer revealed that the IS caught them when they were coming back after meals. They were first taken to a textile factory where Bangladeshi workers were separated and sent to the city of Erbil.
The caterer stated that he had received a call from one 'Ali' who claimed that he is from Bangladesh and should be moved to Erbil as commanded by the ISIS, she said, adding Masih had called her up from Erbil but could not say how he had reached there.
"He had escaped by faking as Ali in the van arranged by caterer" to transport Bangladeshi to Erbil, she said.
When next day, a count of Indians found one of them missing, they all were moved to Badosh.
The minister said after the IS was overthrown, her deputy and Minister of State for External Affairs V K Singh visited Iraq in search of the missing Indians.
He along with the Indian ambassador and an Iraqi official searched the Badosh prison, the last known location of 39 Indians.
Commending Singh for his efforts, she said the three had to sleep on floor of a small house during the search operations.
Local inquiries led to the mass grave, from where bodies were exhumed and taken to Baghdad for DNA testing. Baghdad-based Martyrs Foundation was requested to help establish the identity of Indians on priority.
"The first match was of Sandeep... yesterday 38 matches were confirmed and 39th person had been 70 per cent matched because DNA of his relatives was used in absence of his parents," she said.
"It has been the most difficult and complex task to get the proof," she said. "Such a barbaric terror organisation. There were mass graves. It was a pile of bodies. To track down the bodies of our people and take them to Baghdad to test was a huge task."
The minister thanked Iraqi authorities for excellent cooperation in first using deep penetration radar to locate the bodies, then exhuming them and later transferring them to Baghdad for DNA testing.
She said Singh will travel to Iraq to bring back the mortal remains on a special plane. The first stop on way back would be Amritsar where 31 bodies of those from Punjab and four from Himachal Pradesh would be handed over to the relatives. It will then travel to Patna and then to Kolkata.
Rajya Sabha Chairman M Venkaiah Naidu termed it as very sad news, after which the MPs stood in silence to mourn the dead.
The Congress condoled the deaths but its leader and Leader of the Opposition Ghulam Nabi Azad sought to remind the government that it had "assured us last year that the Indians were alive".
Days after Mosul's liberation from IS was announced, VK Singh was sent to Iraq.
Last year, Swaraj had told the families of the workers that an Iraqi official, quoting intelligence sources, had told VK Singh that the Indians were made to work at a hospital construction site and then shifted to a farm before they were put in a jail in Badosh.
Swaraj wanted to make a similar statement in the Lok Sabha but could not do so because of ruckus created by opposition members.
Photograph: PTI Photo