IOC President Thomas Bach presents Rai Jitu of India with his gold medal in the 50m Pistol Men's event at Ongnyeon International Shooting Range during the 2014 Asian Games in Incheon, South Korea, on Saturday. Photograph: Chung Sung-Jun/Getty Images
India's in-form shooter Jitu Rai gave the country its first gold medal in the 17th Asian Games, cutting through a tough field to finish on top in the 50m pistol event in Incheon on Saturday.
The World No 5 showed tremendous grit and concentration to beat back the challenge from strong contenders like Wang Zhiwei of China and South Korea's two-time Olympic champion and reigning world champion Jongoh to win the gold.
In fact both Zhiwei and Jongoh were eliminated in the race early on leaving only the Indian ace and unheralded Vietnamese Hoang Phuong Nguyen fighting for the gold.
It needed the last set of shots to decide the issue in favour of Rai. He shot 8.4 after the nervous Vietnamese was way off the mark to fire a poor 5.8 to win the gold.
Fresh from his 50m Pistol silver in the World Championships, the Lucknow-based marksman completed a grand double as he had won a gold in the Commonwealth Games in Glasgow earlier this year.
He thus became only the second Indian pistol shooter to clinch an Asian Games title after Jaspal Rana and the fourth shooter overall after shotgun experts Randhir Singh in 1978 and Ronjan Sodhi in 2010.
"I wanted to win this gold badly and was under a lot of pressure. The competition here was even more than in the Commonwealth Games or the World Championship. I am happy that I could fulfill my wish," Rai said.
He qualified seventh for the final with a tally of 559.
National pistol coach Pavel Smirnov later praised Rai, describing him as a very strong character.
"He's very strong mentally. There had been lot of competitions this year leading into the Games, the CWG, the world championships. He's mentally strong and that's why he could do it," Smirov said.
Bronze for super-shooter Shweta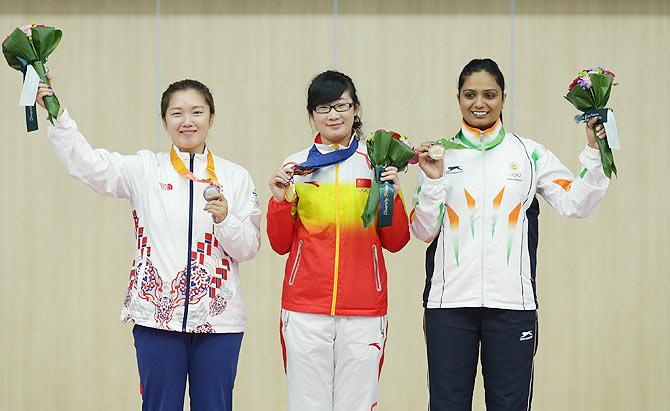 Gold Medalist Mengyuan Zhang of China (centre), Silver Medalist Jung Jee-Hae of South Korea (left), and Bronze Medalist Shweta Chaudhry of India celebrate on the podium after winning their medals in the 10m Air Pistol Women's event. Photograph: Chung Sung-Jun/Getty Images
Earlier, rising shooting star Shweta Chaudhry, stayed true to her billing, winning bronze in the 10m air pistol event.
The Faridabad-born Shweta had to eliminate a rival through a shoot-off to ensure the bronze in the women's 10M Air Pistol event with a total tally of 176.4 at the Ongnyeon shooting range in Incheon.
China's Zhang Mengyan won the gold with 202.2 while host country South Korea's Jung Jee-Hae secured the silver with 201.3.
Having qualified for the 8-woman finals with a total score of 383 even as her more fancied teammate Heena Sidhu was eliminated after notching up 378, Shweta, 28, showed exemplary poise to fight her way back in the finals.
She managed to stave off early elimination by being the third best after the first eight shots, having recovered from the 6th position.
Saina, Sindhu ensure passage into team quarters
India shuttler Saina Nehwal in action. Photograph: Nils Meilvang/Scanpix Denmark/Reuters
Shuttlers Saina Nehwal and P V Sindhu hammered their respective rivals in straight games as India opened their Asian Games' badminton campaign with a 3-0 triumph over Macau China, on Saturday, to enter the women's team event quarterfinals.
The entire tie lasted just under 90 minutes as the Indians outplayed their rivals with clinical precision.
Saina opened the proceedings for the team and hardly broke a sweat before thrashing Kit Ieng Wong 21-6, 21-4 in 21 minutes flat.
Sindhu was also in rampaging form and beat Teng Iok U 21-8, 21-9. Sindhu, who won a bronze medal in the Glasgow Commonwealth Games, took just 24 minutes to wrap the issue in her favour.
In the doubles match, N Sikki Reddy and Pradnya Gadre faced some stiff challenge from Zhibo Zhang and Rong Wang before prevailing 21-16, 21-17 in the 32-minute contest.
However, the men's team was outplayed by the home side 0-3.
K Srikanth and Commonwealth Games gold-medallist Parupalli Kashyap went down in contrasting fashions while the doubles team of Sumeeth Reddy and Manu Attri also failed to come good.
Srikanth was the first to take the court and was hardly a match for Wanho Son, who won 21-14, 21-8 in 37 minutes.
The doubles match was also dominated by South Korea who clinched the match in 35 minutes with a 21-12, 21-9 margin to take a formidable lead.
In the crucial third match, Kashyap was up against former world number one Hyunil Lee. The Indian displayed fine form by taking the opening game 21-6 in 12 minutes but it was all downhill from there on.
Lee bounced back remarkably to clinch the next two games 21-14, 21-10. Kashyap fought hard in the decisive third game, which lasted 44 minutes, but fell short in the final analysis.
Indian women's tennis team enjoy opening win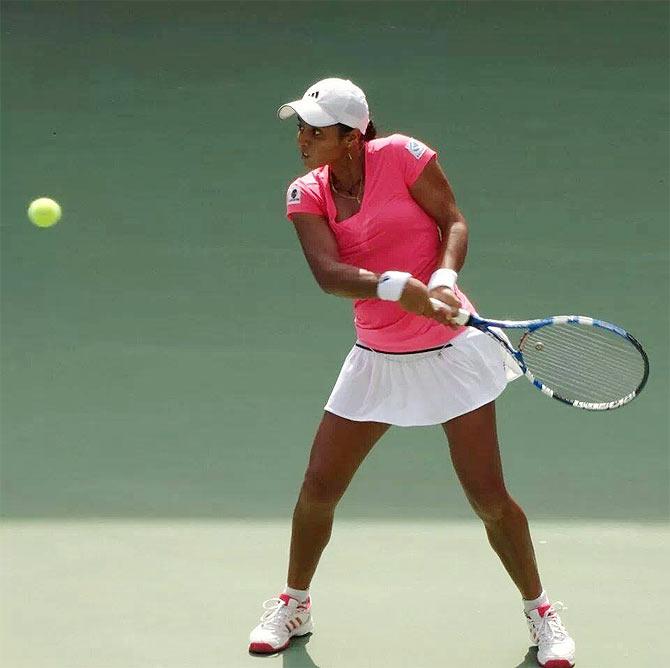 Ankita Raina. Photograph: Ankita Raina/Facebook
The Indian women's tennis team got off to a winning start in the 17th Asian Games as it blanked Oman 3-0 in the first round.
Prarthana Gulabrao Thombare and Ankita Raina notched up contrasting singles victories before the pairing of Natasha Marie Anne Palha and Rishika Sunkara was handed a walkover in the doubles match.
Thombare started the tie for India and dropped just one game to beat Sarah Abdulmajeed Rasheed Balushi 6-0, 6-1 in a match which lasted 52 minutes.
Ankita had to work hard for her win over Fatma Talib Sulaiman Al Nabhani. She squandered the opening set win before getting her act together to clinch the match 6-4, 2-6, 6-3 in nearly two hours.
With an unassailable lead in hand, the doubles rubber was not much of consequence for the Indians, who were saved of the toil courtesy the walkover.
Indian handball team loses opening match to Chinese Taipei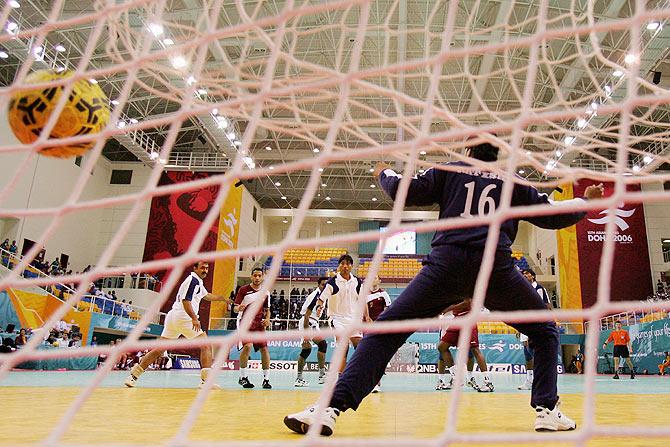 Goalkeeper of India fails to save a goal. Photograph: Julian Finney/Getty Images for DAGOC (This image is for representational purposes only)
The Indian handball team started its Asian Games campaign on a disappointing note, going down 20-39 to Chinese Taipei in their opening Group D match.
In a rather lopsided contest, the Indian were trailing 11-24 at the end of the first 30-minute period before losing the next period 9-15.
Mahesh Vijay was the top-scorer for the Indians, netting five goals in nine attempts, while Manpreet Singh Bassi, Vasu Binu and Avin Khatkar contributed three each.
For the Taipei team, Yi-Fan Chiu stole the limelight by converting eight of his nine shots at the goal. Hsien-Chang Chao scored five goals, while Hsin-Wei Huang and Hui-Hsiung Wang netted four each.
In total, Chinese Taipei had 61 shots at the goal, much higher than India's 45 attempts. The Taipei team was also distinctly better in its defence, with its goalkeepers pulling off 19 saves.
The Indian goalkeepers, however, managed to keep out just nine of the 48 shots fired at them.