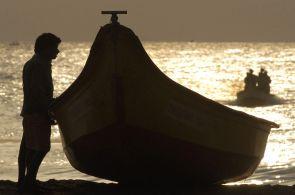 An Indian fisherman was found dead in a Pakistani jail in Karachi on Tuesday.
Media reports identified the prisoner found dead in Landhi jail as Kishore Bhagwan. The cause of Bhagwan's death is yet to be ascertained. His body has been shifted to a hospital.
Indian diplomatic sources said they are yet to hear from Pakistani officials on the matter.
Incidentally, the body of another Indian fisherman Bhikha Lakha Shiyal, 35, who died in December, is yet to be handed over to Indian authorities.
"We are likely to receive the body (of Shiyal) soon. We would be making arrangement for the mortal remains to be sent back," an Indian diplomat told PTI.
The Indian government had approached the Pakistani authorities in Karachi to speed up the process to bring back Shiyal's body.
Shiyal died on December 19 in a Karachi jail and the reason of his death was also yet to be ascertained. His body is kept in a morgue.