Asserting that Indian democracy is a "global public good", Congress leader Rahul Gandhi has said that its "collapse" will have an impact on the world and is not in America's national interest.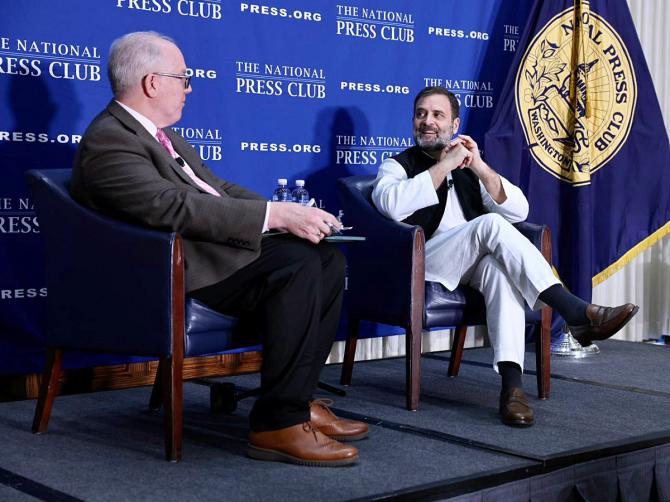 At the same time, Gandhi, who is currently on a six-day tour of the United States, said in multiple settings that the issue of democracy is an internal matter of the country.
"It's our job, it's our business, and it's our work to fight the battle for democracy in India. And it's something that we understand, we accept, and we do," he told reporters at a news conference in Washington, DC at the National Press Club on Thursday.
"But the thing to remember is that Indian democracy is a global public good. Because India is large enough that a collapse in democracy in India will affect...will have an impact on the world. So that is for you to think about how much you have to value Indian democracy. But for us, it's an internal matter, and it's a fight that we are committed to, and we are going to, we are going to win," Gandhi said.
He gave a similar answer to questions on democracy at a reception hosted for him by eminent Indian American Frank Islam.
Responding to a question, Gandhi said that there is a need to broaden the India-US relationship and it should not be restricted to just defence relationships alone.
"India has to do what's in its interest. And that's what will guide us... So, I am not entirely convinced about the sort of autocratic vision that is being promoted. I think that it's very important that democracy is protected on the planet. So, India has a role there. India, of course, has its view on things, and I think that that view should be put on the table, but I don't think one should think about these things as the centre of things. I think that's, that would be arrogant," he said.
"We understand the strengths that we bring to the table: democratic values, data, these are some of the things that technology, a highly educated, technically educated population. These are our strengths. I think we have to chart our course based on these strengths," he said in response to a question on the India-US relationship.
During an interaction with the media at the National Press Club, Gandhi said that "the US and India have synergies, that if they come together can be very powerful. What we are facing is a particular vision of the world, the Chinese vision of the world that offers productivity, and prosperity, but under a non-democratic field."
"That's not acceptable to us, because we simply cannot thrive under non-democratic. So we have to think about productive production and prosperity in a democratic field. And I think that's where the bridge between India and the United States can play a very important role for us and for you," he said.
When asked whether if the Congress party returns to power, will it ensure the rights of minorities in India, Gandhi said: "India has a very robust system already in place, that system has been weakened. But it's not that that system doesn't exist. If a democratic conversation is allowed to be fostered, then these issues will settle themselves. So the rule of law is in place and just perhaps as it hits you, you have to have an independent set of institutions that are not pressurised....,and that has been the norm in India. This is an aberration that has taken place," he said.
"So, from our perspective, the foundations of democracy in India are very strong," he said.
Asked about the freedom of the press, Gandhi said, "I think press freedom is very, very critical for a democracy. I mean, one should be open to criticism. And one should listen to criticism and that's the feedback loop that builds democracies. And definitely, there is a weakening of rhetoric."
Responding to a question on China, at a dinner reception, Gandhi said the Chinese system offers prosperity, but under a non-democratic system.
"I feel that an alternative vision needs to be put on the table. I think that's the real challenge facing the United States and India and other democracies. What exactly does a countervailing vision look like and what are the core elements of that vision?" he said.
"I think we are in the midst of a number of transitions. We are in the midst of a transition in mobility, a transition in energy, a transition in communication. How do we, how do we think about those transitions? I think those are really the big questions. Of course, uh, with regards to the United States, we have cooperation on defence, and that's very important, but I think it's equally important to widen the relationship and make it broader so it's more secure," Gandhi said.
China is occupying Indian territory, the former Congress party chief claimed.
"It's an accepted fact. I think 1,500 square kilometres of land the size of Delhi is occupied by them. It's absolutely unacceptable. The prime minister seems to believe otherwise. Maybe he knows something that we don't know," he said at the National Press Club.
The Indian government has rejected Gandhi's claim.
The Indian and Chinese troops are locked in an over three-year confrontation in certain friction points in eastern Ladakh even as the two sides completed disengagement from several areas following extensive diplomatic and military talks.
India has underlined the importance of resolving the eastern Ladakh border row with China and ensuring peace and tranquillity along the Line of Actual Control for the development of bilateral ties.
On competing with China in the manufacturing sector, Gandhi said, "You would see made in China and they all (will) see made in India."
"If India starts manufacturing and starts producing it will start to export as well. I think there is an opportunity for India to successfully compete with the Chinese in manufacturing. We might not end up doing it the way they do... We might end up having smaller factories with high technology embedded in them... But the end result would be similar that we would compete with China and you would see made in China and they all see made in India," Gandhi added.