Indian-Americans in Atlanta and Georgia pooled in their resources to help several million people from Florida who were affected by hurricane Irma that plummeted parts of the US coastal State with wind speed of more than 193 km per hour.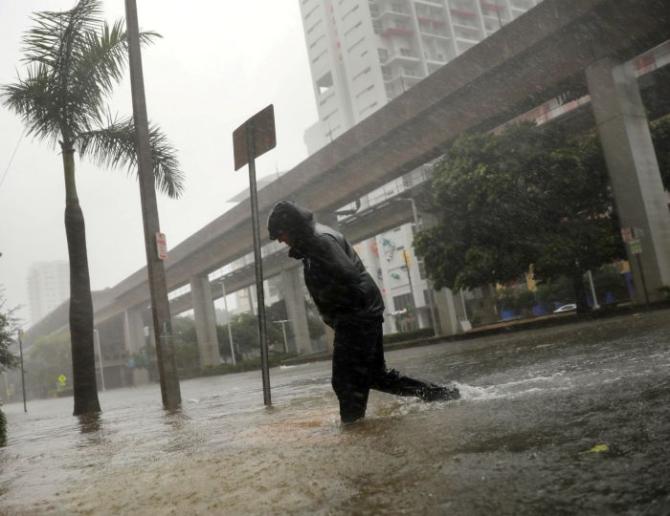 IMAGE: A local resident walks across a flooded street in downtown Miami as Hurricane Irma pummels the state. Photograph: Carlos Barria/Reuters
Hurricane Irma made landfall on Florida's southern islands on Sunday and claimed four lives as millions of people, including thousands of Indian-Americans, evacuated the state.
PHOTOS: Hurricane Irma leaves trail of destruction in Florida
About 120,000 Indian-Americans live in Florida, thousands of them residing in the now-dangerous zones of Miami, Fort Lauderdale and even Tampa, according to 2010 census.
While a large number of Indian-Americans stayed inside Florida, several thousands drove out of the state and reached out to their community members in nearby Atlanta.
Given that Florida has a significant Indian-American population and a favourite destination of Indian tourists because of Disneyland, the Indian ambassador to the US, Navtej Sarna, rushed his New York Consul General to Atlanta to oversee the relief operation and coordinate with the local community leaders.
Led by New York Consul General Sandeep Chakravorty, Atlanta consulate officials visited several evacuee shelters housing people mainly from Tampa, Florida to ascertain their welfare and wellbeing.
With the help of local residents, Sewa International has created a pool of houses where evacuees can stay till the time of improvement in situation in Florida.
In the forefront in assisting the people affected by hurricane Irma, American Telugu Association have made accommodation and food arrangements for more than 600 people in the entire Metro Atlanta area.
The Hindu Temple of Atlanta in association with other major Indian organisations, including Indian Friends of Atlanta and Sewa USA, have provided boarding and lodging facilities for over 100 people.
Officials from the Indian embassy in Washington and those from the consulate in Atlanta were also maintaining contact with Florida residents.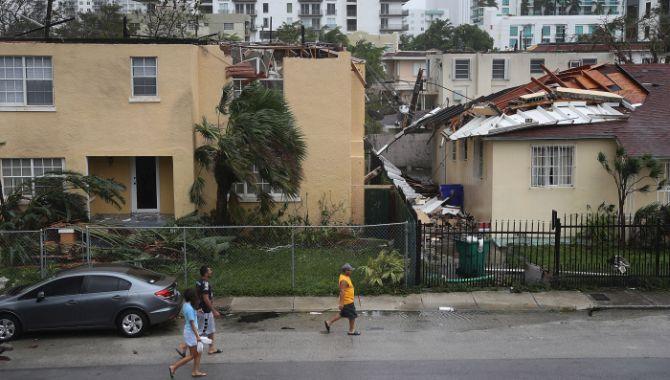 IMAGE: People walk past a building where the roof was blown off by Hurricane Irma in Miami, Florida. Photograph: Joe Raedle/Getty Images
Several Indian families in Orlando, 241 km from Tampa, were also ready to receive evacuees.
"More than 400 homes in Orlando are ready to provide shelter to those evacuating," the Indian consulate in Atlanta said in a tweet.
Indian-Americans in and around Atlanta opened up their homes for the Florida evacuees and prepared extra meals for them.
As reports came in, individuals, businesses and organisations were working round the clock to ensure that necessary help was provided to every Indian American in need in the aftermath of Irma.
A state of emergency has been declared in Florida and curfews were imposed in several cities.
As Irma left a path of destruction on its way, US President Donald Trump held another review meeting with his Cabinet of the preparedness and relief operations at Camp David.
"I hope there aren't too many people in the path. You don't want to be in that path. That's a path you don't want to be in. We tried to warn everybody. For the most part, they've left, but that's a bad path to be in," Trump told reporters on his return from Camp David.
Trump said he will visit Florida soon.
"I think it's been going really well. It's a rough hurricane, as you better than anybody. The Coast Guard has been amazing already. You've been hearing what they're doing right in the middle of the storm," he said in response to a question.