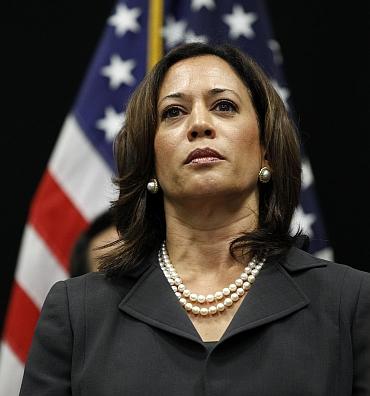 California Attorney General Kamala Harris formally announced her campaign for the United States Senate on Tuesday. Her announcement came after US Senator Barbara Boxer announced that she would retire when her term ends in 2017.
The 50-year-old Harris, a Democrat, announced her campaign for senate through her website.
"I'm excited to share with you that I'm launching my campaign to represent the people of California in the United States Senate," Harris wrote on her website.
"I want to be a voice for Californians on these issues and others that impact our state in the US Senate. I will be a fighter for the next generation on the critical issues facing our country. I will be a fighter for middle class families who are feeling the pinch of stagnant wages and diminishing opportunity. I will be a fighter for our children who deserve a world-class education, and for students burdened by predatory lenders and skyrocketing tuition. And I will fight relentlessly to protect our coast, our immigrant communities and our seniors," she added.
Harris mother was Dr Shyamala Gopalan, a breast cancer specialist who emigrated from Chennai in the 1960s and her Jamaican American father Donald Harris was an economics professor at Stanford University, California.
She graduated from Howard University and University of California, Hastings College of the Law and is presently serving her second term as California Attorney General. She has worked as prosecutor in Alameda County and served twice as San Francisco District Attorney.
According to reports, there are other candidates interested in the senate spot too.
Former Los Angeles Mayor Antonio Villaraigosa, Representative John Garamendi of Walnut Grove (Sacramento County) and former Contra Costa County representative Ellen Tauscher have said they are considering a run.