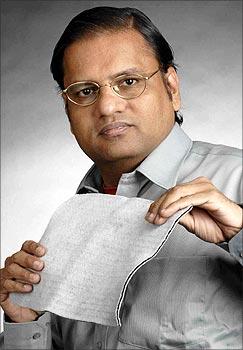 Dr Seshadri Ramkumar, associate professor, Institute of Environmental and Human Health, Texas Tech University, has been honoured as Scientist of the Year, 2009, by the Lubbock Chapter of Achievement Rewards for College Scientists.
The ARCS, a 50-year-old foundation, has chapters in leading schools like the University of California System, Johns Hopkins, and supports science research and education. Each chapter recognises a senior scientist from its region with the Scientist of the Year Award.
"Normally, very senior scientists who have reached national prominence get the honour," Ramkumar said. "This time, they were gracious to recognise me for my successful result using the nonwoven wipe and its technology transfer."
The decontamination wipe developed by Ramkumar and his colleagues reportedly fights chemical and toxic warfare. The nonwoven dry wipe, Fibertect, can prevent harm from toxic gases like mustard. It will also absorb harmful liquids, Ramkumar said. Fibertect was tested at the Lawrence Livermore National Laboratory against mustard gas and other toxic chemicals. Study found that the product out-performed 30 different decontamination materials, including materials currently used in military.
Non-woven fabric is manufactured by putting small fibers together in the form of a sheet or web and then binding them either mechanically with an adhesive or thermally.
Ramkumar supervises the Nonwovens and Advanced Materials Laboratory at Texas Tech. He has been playing a vital role for the promotion, growth and international linkages in technical textiles in India. Technical textiles are a growing sector all over the world. He said India imports 60 per cent of the nonwoven material it needs from countries like Taiwan, Korea, China and the United States.
Ramkumar, who did his PhD from Leeds University in Britain and joined Texas Tech in 1998, was honoured last year with the Top Twenty Under 40 Award for inventing a nonwoven military wipe by the Young Professionals of Greater Lubbock. He serves as the co-chairman of the Association of the Nonwoven Fabrics Industry's India committee. He recently received a patent for his new inventions.