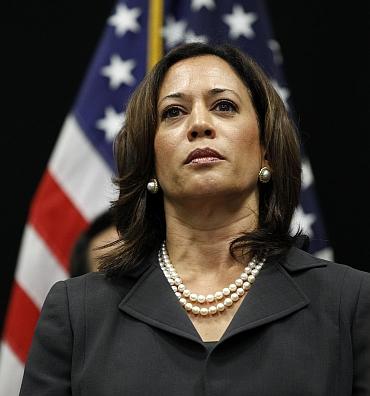 Indian-American Kamala D Harris, the attorney general of California, would make prime time address to the Democratic National Convention later on Wednesday.
With actor Kal Penn hogging the prime time limelight on the first day of the convention yesterday, this would be possibly for the first time in the history of the Democratic national convention that Indian-Americans would have made prime time addresses on two consecutive days.
This small but powerful ethnic American community made history last week when as many as four Indian Americans made to the stage of the Republican national convention in Tampa, Florida, with South Carolina Governor Nikki Haley making a prime time address on the first day and Sikh invoking prayers on the second day.
Democratic party has gone a step ahead of the Republicans. On the first day, Harris, who is of Indian and African descent, made an appearance on the convention stage in her capacity as the co-chair of the Rules Committee and Kal Penn made the prime time address in the presence of thousands of party members.
Later in the night, the party announced that Harris would be addressing the convention on Wednesday night during the prime time. Indian-American Harris is said to be the female Obama in the making.
Daughter of an Indian mother and African-American father, Harris is being called the future of the Democratic Party, a rising political star in the mold of one of her big supporters -- Barack Obama.
She is the first woman to be the attorney general of California. Harris has been campaigning aggressively for Obama.
Image: Attorney General of California Kamala Harris attends a news conference to announce the creation of the Mortgage Fraud Strike Force in Los Angeles.
Photograph: Mario Anzuoni/Reuters