Dr Prashanth Rangan was among the 22 outstanding early-career researchers who were named Pew Scholars in the Biomedical Sciences. Rediff.com's George Joseph reports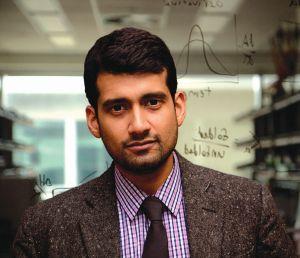 Dr Prashanth Rangan, assistant professor of biological sciences, University at Albany in New York, has received a $1.43 million (Rs 86,51,500) grant from the National Institutes of Health for his research into both preventing and inducing differentiation in stem cells in order to treat cancers and degenerative diseases.
Dr Rangan, who was named a 2014 Pew Scholar in the Biomedical Sciences for his outstanding work as a young scientist weeks ago, is exploring how stem cells control their differentiation by using Drosophila (a kind of flies) germline stem cells, or GSCs.
Loss of stem cell regulation can result in both degenerative diseases and cancer. GSCs provide an extensive understanding of the molecular basis of stem cell regulation. Dr Rangan calls them 'the ultimate stem cells' because they are both totipotent -- having the capacity to form an entire organism -- and immortal. Thus, paradigms established in the germline can be extended to other stem cell systems.
"Drosophila is a superior model system to study questions about stem cell self-renewal and differentiation because of the availability of mutants, markers, RNAi technology and targeted expression methods," Dr Rangan said.
"My laboratory will investigate which proteins are made during different stages of germ cell development using a combination of biophysics, genetics, and molecular and structural biology techniques."
The research will allow him to intervene in the correct cell type and block specific targets to promote or block differentiation. He believes the ability to prevent premature differentiation in degenerative diseases, or to induce differentiation in case of cancer, will have tremendous therapeutic impact.
The grant, which runs through July 2019, comes from the NIH's National Institute of General Medical Sciences, which supports basic research to increase understanding of biological processes and lay foundations for advances in disease diagnosis, treatment and prevention.
Dr Rangan conducts much of his research in the advanced facilities of The RNA Institute at UAlbany, which is directed by Dr Paul Agris.
'Due to economic pressures that have resulted in many fewer dollars for basic research, it is quite difficult today for a young investigator to be awarded a significant NIH grant early in their career,' said Agris.
"This grant allows us to understand the biology of stem cells, which can help with design of therapeutics for regenerative therapy," Dr Rangan said. "I am also especially excited about training undergraduate and graduate students working on the project, thereby providing them with a solid foundation for scientific research." He was among the 22 outstanding early-career researchers who were named Pew Scholars in the Biomedical Sciences by the Pew Charitable Trusts with a four-year grant total of $240,000.
Dr Rangan joined the University at Albany faculty in the Department of Biological Sciences and the research team of UAlbany's RNA Institute, where he heads the Rangan Laboratory, in the Fall of 2012. His previous position was at the New York University Medical School.
He is an alumnus of the Anna University, Chennai, and Johns Hopkins University.
Image: Dr Prashanth Rangan, assistant professor of biological sciences