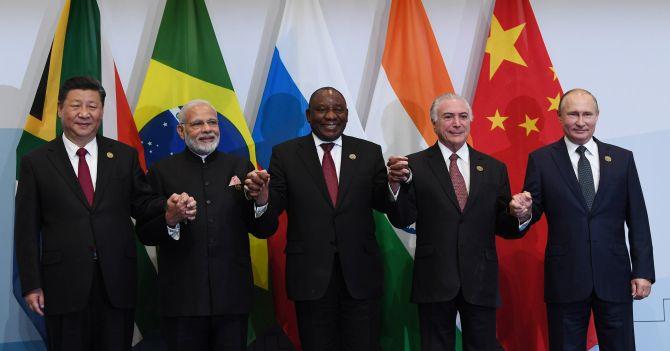 Prime Minister Narendra Modi on Thursday highlighted the importance of industrial technology, skill development and multilateral cooperation in creating a better world as he attended the BRICS (Brazil, Russia, India, China, South Africa) Summit in Johannesburg.
Speaking at the summit, Modi said the new industrial technology and digital interface that the world is building is an opportunity and also a challenge.
Modi, who arrived in Johannesburg on Wednesday to attend the BRICS Summit, said technological innovations can help to enhance better service delivery, productivity levels.
New systems and products will open new ways of economic progress, he said.
'At the session with fellow BRICS leaders, I shared my thoughts on various global issues, the importance of technology, skill development and how effective multilateral cooperation creates a better world,' Modi tweeted after his address.
He said India wants to work with BRICS nations on the Fourth Industrial Revolution and called for sharing the best practices and policies in the area.
The Fourth Industrial Revolution is the fourth major industrial era since the initial Industrial Revolution of the 18th century. It is characterised by a fusion of technologies that is blurring the lines between the physical, digital and biological spheres.
"A welcome result of Industry 4.0 will be more close contact. The world will be flatter for those who can benefit from it. Many disadvantaged classes will be able to take big leap across the many sectors of technology and development," he said.
He said nations must think seriously about the consequences of the fourth industrial revolution in the technology world, which would have a far-reaching impact on the public and economy of the countries.
"India wants to work collectively along with BRICS nations in the area of Fourth Industrial Revolution and all nations must share the best practices and policies on this," the prime minister said.
"Compliance with laws, the example of better delivery by direct payment technology to beneficiaries of social security and government schemes," he said.
He said the Fourth Industrial Revolution will have more importance than the capital.
"High-skill but temporary work will be the new face of employment. There will be radical changes in industrial production, design, and manufacturing," Modi said.
He also underlined the need for schools and universities to create the curriculum so that they can prepare the youth for the future.
Modi also met South African President Cyril Ramaphosa and the two leaders discussed ways to expand the bilateral ties in a number of sectors, including trade and investment, IT and defence.
Following the delegation-level talks between Modi and Ramaphosa, three MoUs were signed on cooperation in exploration and use of outer space for peaceful purposes, setting up of Gandhi-Mandela Centre of specialisation for artisan skills and agricultural research and education.
'Kicking off a series of bilateral meetings on the sidelines of BRICS! PM Narendra Modi meets the host South African President Cyril Ramaphosa,' External Affairs Ministry Spokesperson Raveesh Kumar said in a tweet.
India and South Africa are celebrating 21 years of strategic partnership.
"India and South Africa are proud inheritors of legacies of Mahatma Gandhi and Nelson Mandela," Kumar said.
"PM Narendra Modi and President Cyril Ramaphosa discussed expansion of our relationship in trade and investment, agriculture and food processing, IT, defence and people-to-people contacts," he said.