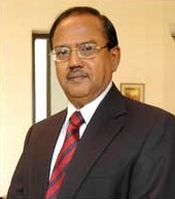 Asserting that there are no problems which cannot be resolved, India on Tuesday said it would like to address all its issues with Pakistan through talks while having an "effective deterrence" to deal with terrorism emanating from there.
National Security Advisor Ajit Doval also emphasised that India wants to have friendly relations with an economically-growing China without compromising on territorial sovereignty.
"We would like to resolve our problems through negotiations, through talks. I don't think of any problem that cannot be resolved through negotiations," he said, against the backdrop of recent escalation in ceasefire violation by Pakistan.
"But on the other hand, India would like to have an effective deterrence to deal with terrorism," Doval said.
Delivering an address on the Munich Security Conference in New Delhi, he emphasised the policy of having friendly relations with all neighbours and said India's economic progress could bring the regional countries together.
"I think developing better relations with neighbourhood is important. India's economic development could bind together the region which could see a vested interest that India's growth will bring more opportunities and they should not feel undermined," he said.
Turning to China whose troops have been indulging in incursions across the Line of Actual Control, he said, "India considers it as a very important neighbour with whom we have had good relations for centuries."
Observing that there had been "some bad experience in 1962 when China waged war", Doval said, "But we find space for economic cooperation and commerce. I would like to develop our relations to such an extent till the time our territorial and integral sovereignty...we would not able to compromise on it. We should sit together and resolve our boundary dispute amicably."