'In the time I have been an Indiawallah, I have seen three US Presidential visits to India, nuclear sanctions, nuclear cooperation, a border conflict with Pakistan, the growth of IT services, a government losing a confidence vote, and so much more,' Rick Rossow, the new Wadhwani Chair in US-India Policy Studies tells Rediff.com's Aziz Haniffa.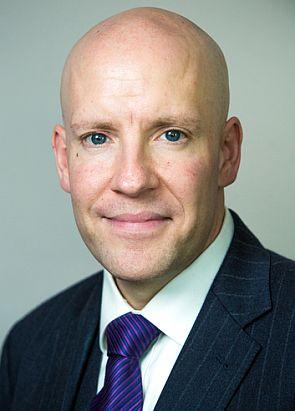 Richard 'Rick' Rossow, former director of operations at the US-India Business Council, has been named the new Wadhwani Chair in US-India Policy Studies at the Washington-based think-tank, the Centre for Strategic and International Studies.
Rossow, who proudly describes himself as an 'Indiawallah' succeeds Karl F 'Rick' Inderfurth, the first Wadhwani Chair since its establishment three years ago.
Inderfurth, assistant secretary of state for South Asian affairs in the Clinton administration, will remain a senior advisor.
The chair was endowed by the Wadhwani Foundation, founded and led by CSIS Trustee and Symphony Technology Group CEO Dr Romesh Wadhwani, a billionaire entrepreneur and philanthropist in the Silicon Valley who was honoured with the India Abroad Award for Lifetime Achievement in 2012.
India Abroad, the oldest and most circulated Indian-American newsweekly published out of New York and other locations, is owned and published by Rediff.com
'The Indo-US relationship is vital to both countries. But right now the relationship is at a crossroads,' John Hamre, CSIS president and CEO, pointed out, adding, 'and we need to refocus on economics if we want this to become a truly strategic partnership for the twenty-first century.'
The Wadhwani Chair serves as an independent platform in Washington from which to assess major economic, political, and strategic issues in the India-US relationship.
It is focused primarily on policies that accelerate economic development in India, as well as the India-US economic relationship.
Rossow's selection was buoyed by the tangible leadership he has shown in private-sector efforts to increase market access, resolve investor disputes, and discover new business opportunities in India since 1998.
During his 10 years (from 1998 to 2008) at USIBC, America's leading advocacy group on behalf of strengthening economic ties between India and the United States, he managed the council's policy groups on energy, information technology, insurance, media and entertainment, and telecommunications and spent an average of two months per year in India.
From 2008 to 2012, till he joined McLarty, Rossow was with New York Life Insurance Company, most recently as the head of international government affairs, where he developed strategic plans for the company's global mergers and acquisitions work and sought to influence regulations in the company's overseas markets, especially India.
'The collaboration between India and the United States on policy initiatives has progressed well,' Dr Wadhwani said, 'albeit with some headwinds along the way.'
'There is a significant and growing opportunity to develop focused programmes for the benefit of both nations,' the billionaire said, and declared, 'No other think-tank in Washington is as focused on the US-India economic relationship as CSIS, with the support of the Wadhwani Foundation.'
'Richard Rossow,' Dr Wadhwani added, 'brings real-world experience, creative ideas, and a positive, pragmatic approach to reaching top policymakers in both countries. We are delighted he will be building on the strong foundation that Rick Inderfurth leaves behind.'
The Symphony Technology Group consists of 12 software and services companies with combined revenues of over $2.5 billion and 15,000 employees. The Wadhwani Foundation is exclusively devoted to accelerating economic development in India and emerging economies.
An elated Rossow told Rediff.com, "I am humbled to think I will fill a role that was built up so effectively by Tezi (Teresita C) Schaffer and Rick Inderfurth -- two people who were instrumental in my own education about India."
Schaffer, a former diplomat with over 30 years experience in and on South Asia, after retirement from the State Department headed CSIS's South Asia programme for 12 years. She is now a non-resident fellow at The Brookings Institution and also an associate at McLarty Associates.
"It is tough to believe that my personal journey with India started 16 years ago with a visit to Chennai to organise an investors conference -- The Dynamic South," Rossow recalled.
"In the relatively brief time I have been an Indiawallah, I have seen three US Presidential visits to India, nuclear sanctions, nuclear cooperation, a border conflict with Pakistan, the growth of IT services, a government losing a confidence vote, and so much more."
"I am excited to have an opportunity to leverage my knowledge base to deepen our understanding of events on the sub-continent," Rossow added.
His old boss, Ron Somers, president, USIBC, told Rediff.com he was "thrilled and excited" on hearing about Rossow's appointment.
"Rossow is an avid supporter of a strong Indo-US relationship," Somers said, adding, "I see this next chapter as an extraordinary opportunity for greater collaboration between the CSIS Wadhwani Chair and the USIBC -- which both share the same objective -- to advance India-US ties."