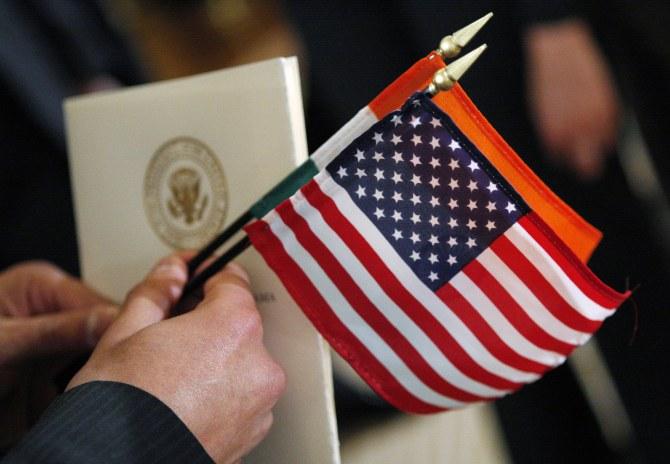 Image: A guest holds US and India flags at the White House in Washington, DC. Photograph: Jim Young/Reuters
'When you think back to the promises made 10 years ago, not a single one of those had panned out to date.'
Ten years after the controversial India-US civilian nuclear deal was first announced with much fanfare from the US administration and the nuclear industry that it would envisage the sale of several US-made nuclear reactors to India and generate several thousand American jobs, it has remained largely a damp squib, according to George Perkovich, one of the world's leading nuclear affairs experts.
Perkovich, vice-president for studies at the Carnegie Endowment for International Peace, and presiding over the session on 'The India Deal: A 10-Year Assessment' at the 2015 Carnegie International Nuclear Policy Conference, recalled that "When you think back to the promises made 10 years ago, not a single one of those had panned out to date."
He noted how then secretary of state Condoleezza Rice and other officials testifying in Congress were saying that by 2012 they would have eight American-built nuclear reactors under construction in India, generating 15,000 jobs in the US nuclear industry.
Perkovich, author of the highly acclaimed India's Nuclear Bomb, said the US-India Business Council was even more presumptuous predicting that 120,000 jobs and over $100 billion in trade would be generated by the deal.
"Lots of very positive statements were made in the US and in India much less dramatically so and there was a lot of hope based on this agreement," he said. "But at the same time, the people who were pessimistic about the deal were saying things that were quite dire."
Perkovich spoke of how this pessimistic group was warning that "as a result of this agreement, India would dramatically ramp up its production of fuel for nuclear weapons and that this agreement would produce a nuclear arms race that would greatly accelerate that would collapse the NPT (Nuclear Non-Proliferation Treaty)."
He acknowledged that this had not come to pass either where opponents had argued that the structure of US and Indian interests were sufficiently divergent that a strategic partnership as sold by the proponents of the deal would prove impossible.
India, Perkovich felt, would not be able to adopt nuclear power on the scale described by the deal's advocates and that it would undermine the non-proliferation regime by institutionalising double standards when the NPT universally had long been a consensus objective, and offering India, a non-signatory to this treaty, and exemption, was hypocritical by the US.
But a decade after the fact, the impact of the deal, essentially nothing could really be assessed, because the agreement was yet to be implemented in terms of operationalisation and commercialisation and the nuclear industry continued to be concerned over India's Nuclear Liability Law passed by Parliament in 2010.
ALSO READ: