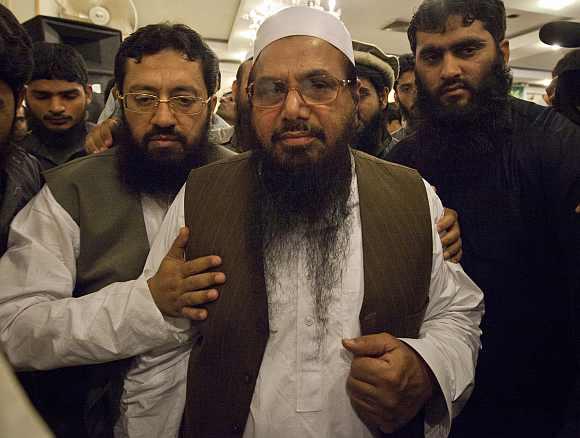 India said on Tuesday that it is not impressed by the detention of Jamat-ud-Dawa chief Hafiz Saeed in Lahore, saying only a 'credible crackdown' on terror outfits, including Saeed's, will prove Pakistan's sincerity as such actions had been taken against the 26/11 Mumbai attack mastermind in the past too.
"We have also noted that Hafiz Saeed and four others have been placed under preventive detention. Exercises such as yesterday's (Monday's) orders against Hafiz Saeed and others have been carried out by Pakistan in the past also. Only a credible crack down on the mastermind of the Mumbai terrorist attack and terrorist organisations involved in cross border terrorism would be proof of Pakistan's sincerity," ministry of external affairs spokesman Vikas Swarup said.
Swarup said the government had seen reports of Pakistan's interior ministry having placed the JuD and the Falah-e-Insaniyet Foundation on the watchlist and also the notification under which the foundation has been included in the second schedule of their anti-terror legislation under United Nations Security Council resolution number 1267.
He said India has long maintained that the UNSC 1267 provisions pertaining to listing and proscription of known terrorist entities and individuals must be effectively and sincerely enforced by all member states.
"We have also consistently called for bringing known terrorists under the ambit of the 1267 sanctions," he said.
Meanwhile, the ruling Bharatiya Janata Party leaders termed the 90-day detention of Saeed as 'eyewash' and demanded that Islamabad should prosecute the JuD chief and hand him over to India.
Union minister Kiren Rijiju said Pakistan should file a chargesheet against Saeed.
"We have been exerting pressure on Pakistan continuously. We are bringing it to the notice of the world too that how not only Saeed, but others (terrorist) too, are being allowed to thrive there (in Pakistan).
"Pakistan will definitely take steps in that direction if there's pressure from all sides," he told reporters outside Parliament.
Rijiju observed that terrorism has become a concern for all countries including the United States and insisted Pakistan to launch a crackdown on terrorists thriving in its territory, which the minister added, has become a breeding ground for terrorism.
Making light of the reports of Saeed's house arrest, BJP MP Subramanian Swamy suggested the action was not enough and demanded Pakistan to instead hand over the JuD chief to India, failing which the National Democratic Alliance government should prepare itself to 'disintegrate' into four pieces.
"He should be handed over to India...I think the government of India should threaten Pakistan (to hand him over). If they ignore the threat, we should prepare to disintegrate Pakistan into four pieces," he added.
Former Union home secretary and BJP MP R K Singh too downplayed the reports, terming the detention as 'eyewash' and a 'joke' on part of Pakistan to avoid itself from being listed among countries from where immigration has been stopped.
"House arrest is meaningless. He should be prosecuted. He should not be detained. He should not be in his own house. He should be jailed. He should be facing charges for Mumbai terror attacks," he said, adding the action Pakistan took is allegedly a sham.
Singh also stated that Pakistan should be listed among those countries where immigration has been stopped, contending it has become a hotbed of terrorism and jihadi ideology.