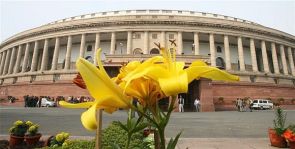 In a rare and special gesture the Indian government has invited Japanese imperial couple Emperor Akihito and Empress Michiko to stay at Parliament House for a day during their India visit in the third week of November.
A former diplomat, Lok Sabha Speaker Meira Kumar has taken personal interest in giving a face lift to the Parliament chambers for the emperor and empress.
The Lok Sabha Chambers are being spruced up by the Central Public Works Department in consultation with Japanese architects.
The secretary general of the Lok Sabha has been functioning from the Parliament annexe to overlook modifications to the room where the royal couple will be put up.

Emperor Akihito and Empress Michiko will be in India to commemorate the 60th anniversary of diplomatic ties between the two countries.