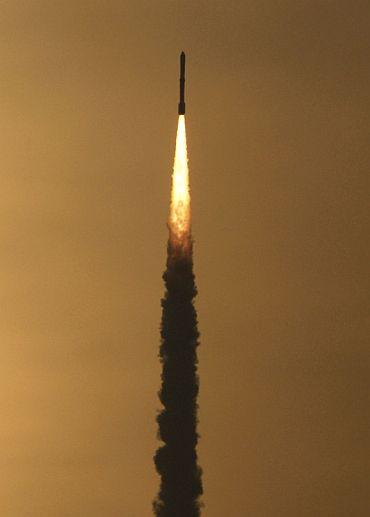 India's first indigenous all-weather Radar Imaging Satellite (RISAT-1), whose images will facilitate agriculture and disaster management, was on Thursday launched successfully on board the PSLV-C19 from Sriharikota in Andhra Pradesh.

The 1,858 kg spacecraft, the country's first microwave remote sensing satellite, was injected into orbit by the Polar Satellite Launch Vehicle about 19 minutes after a perfect lift off at 5.47 am at the end of the 71-hour countdown from the Satish Dhawan Space Centre, around 90 km from Chennai.

Indian Space Research Organisation's workhorse launch vehicle PSLV yet again proved its reliability completing its 20th successful flight in a row launching RISAT-1, the heaviest satellite ever lifted by it.

RISAT-1, culmination of nearly ten years of effort by ISRO, has the capability to take images of the earth during day and night as well as in cloudy conditions. Till now, India depended on images from a Canadian satellite as existing domestic remote sensing spacecraft cannot take pictures of earth during cloud cover.

Lifting off in the backdrop of crimson East from the first launch pad, the 44-metre tall rocket soared majestically into the sky in a mission described as 'a grand success' by ISRO Chairman K Radhakrishnan.

It was a textbook launch with each of the four stages of the rocket performing as programmed and the scientists at the mission control centre broke into cheers when the satellite was injected into orbit.

"I am extremely happy to announce that the PSLV C-19 mission is a grand success. This is the 20th successive successful flight of our PSLV. It injected precisely India's first radar imaging satellite into the desired orbit," a beaming Radhakrishnan said.

India had in April 2009 launched a Radar Imaging Satellite (RISAT-2) with all weather capability but it was bought from Israel for $110 million largely for surveillance purposes.

RISAT-1 was launched using the state-of-the-art new Mission Control Centre for the first time after its inauguration by President Pratibha Patil in January, Mission Director P Kunhikrishnan said.

The launch of RISAT-1 was originally slated for March but the ISRO row, the fall-out of the punitive action against four former space scientists for their role in the Antrix-Devas deal, cast a shadow apparently delaying the preparations.

ISRO used PSLV-XL, high-end version, only third such instance, for Thursday's launch. The XL version was earlier used for Chandrayaan-1 and GSAT-12 missions.

The approved cost of RISAT-1, including its development, is Rs 378 crore, while Rs 120 crore has been spent to build the rocket (PSLV-C19), making it a Rs 498-crore mission.

The spacecraft, which would be parked at its final orbit of 536 km altitude, has a mission life of five years and would make 14 orbits per day.

Besides use in the agriculture sector, RISAT-1 could also be used to keep round-the-clock vigil on the country's borders, but ISRO officials had said this satellite would not be used for defence applications. RISAT-2, primarily a spy spacecraft, is already doing that job.

RISAT-1's capability to take images in all weather conditions including fog and haze would be a boon for regions perennially under cloud cover.

The satellite carries a C-band Synthetic Aperture Radar (SAR) payload, operating in a multi-polarisation and multi-resolution mode to provide images with coarse, fine and high spatial resolutions respectively.

The unique characteristics of SAR enable applications in agriculture, particularly paddy monitoring in kharif season and management of natural disasters like flood and cyclone.

The satellite would be particularly useful in Kharif season when cloud-covered atmosphere is frequent. Images taken from the spacecraft of agricultural crops would enable planners with regard to production estimation and forecast.

During floods, aerial pictures would give a clear idea on the affected region and water level.