India on Monday scripted history as it successfully launched its most powerful and heaviest geostationary rocket carrying advanced communication satellite GSAT-19 from the spaceport in Sriharikota.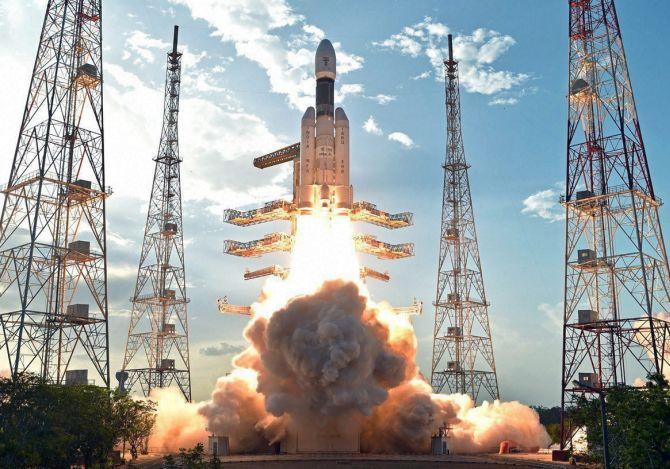 On its maiden development flight, the 43.43 metre tall three-stage GSLV MkIII-D1, expected to be the choice of India for taking humans into space in future, lifted off at 5.28 pm from the second launch pad at the Satish Dhawan Space Centre Sriharikota, about 125 km from Chennai.
Geosynchronous Satellite Launch Vehicle Mark-III (MkIII D-1) injected the 3,136-kg GSAT-19, the heaviest satellite to be launched from the country yet, into Geosynchronous Transfer Orbit about 16 minutes later.
It was a textbook launch as every stage of the three- stage GSLV MkIII with indegeneous cryogenic engine, performed without any flaw after the powerful rocket blasted off at the end of 25-and-half hour countdown, that began last evening, leaving plumes of smoke and soared into sky.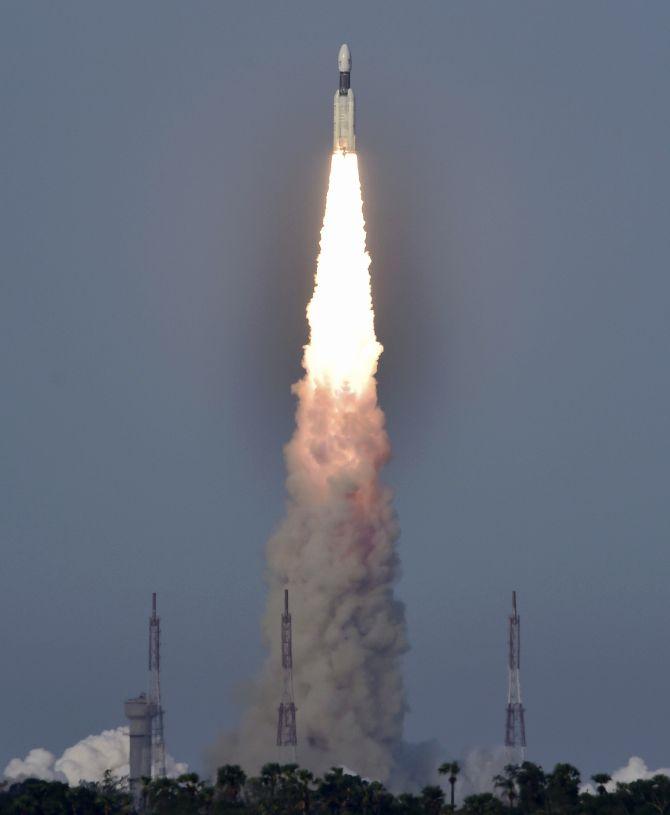 Indian Space Research Organisation scientists broke into thunderous applause as the complex mission was declared a success, brightening chances of India increasing its share in the commercial launch market.
GSLV MkIII can orbit payloads or satellites weighing upto 4,000 kgs into the GTO and 10,000 kgs into Low Earth Orbit.
A beaming ISRO Chairman A S Kiran Kumar termed it as "a historic day" and said the GSLV MkIII D-1 has successfully demonstrated its capabilities with the injection of GSAT-19 into the desired orbit.
"It is a great success in the maiden attempt and GSLV MkIII has successfully put in orbit GSAT-19 which is a next generation satellite."
"I wish to congratulate the entire team which has relentlessly worked each day for today's launch from 2002," he said.
President Pranab Mukherjee, Prime Minister Narendra Modi and Congress President Sonia Gandhi hailed the successful launch of GSLV-MkIII-D1 and GSAT-19.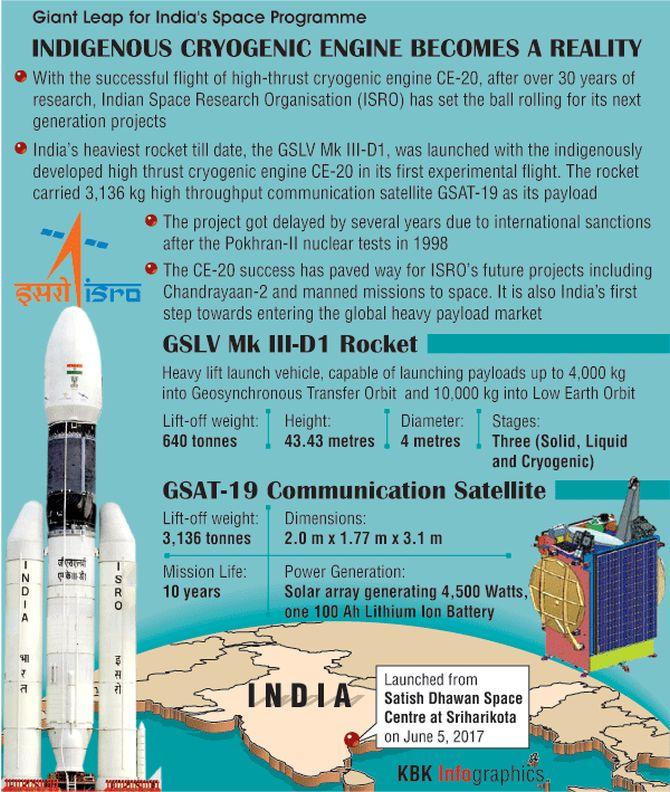 Mukherjee said the nation was proud of ISRO's achievement while Modi said the mission took India closer to next generation satellite capability.
"Congratulations to the dedicated scientists of ISRO for the successful launch of GSLV – MKIII D1/GSAT-19 mission," the prime minister tweeted soon after.
Kiran Kumar said Modi called him and congratulated each member of the ISRO team for the successful mission.
GSAT-19, which will augment India's communication resources, was released into GTO, some seconds ahead of the appointed time.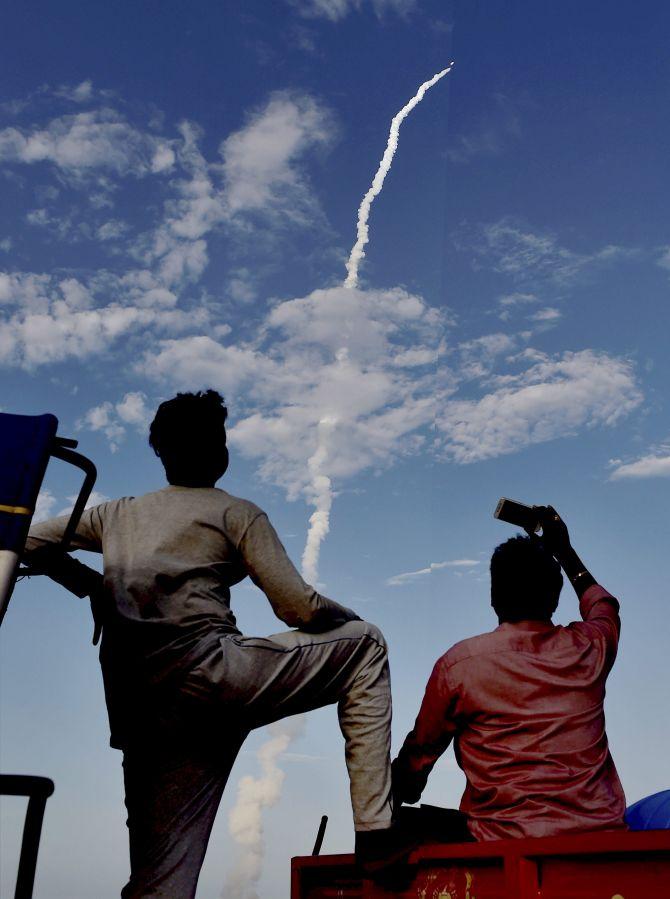 Billed as a potential gamechanger satellite, GSAT-19 was equivalent to having a constellation of 6-7 of the older variety of communication satellites in space.
It carries Ka/Ku-band high throughput communication transponders and is the heaviest satellite to be built and launched from the country.
Monday's GSLV mission is significant for India as ISRO had been depending on foreign launchers for launching communication satellites weighing more than 2,300 kgs.
The success caps more than a decade of untiring efforts by ISRO which had to overcome several hurdles in cracking the complex cryogenic technology and developing its own C-25 engine, which was used in GSLV MkIII D1.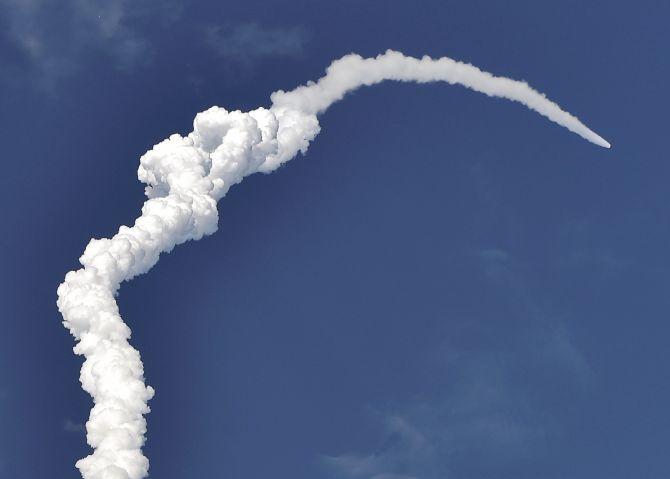 With a lift-off weigh of 640 tons, GSLV MkIII vehicle, which is powered by two solid motor strap-ons (S200), a liquid propellant core stage (L110) and cryogenic stage (C25), has been designed for carrying heavier four tons class satellites.
GSLV MkIII, which is expected to be the vehicle to carry Indian astronauts in future, also came in for wholesome praise from ISRO scientists who gave it names ranging from "Baahubali" to "obedient boy" to "giant."
"Proud to say ISRO has given birth to a Baahubali," said Tapan Misra, Director, Space Applications Centre (SAC) of ISRO, indicating its enormous power.
WATCH THE VIDEO BELOW:-
Photographs: R Senthil Kumar/PTI Photo