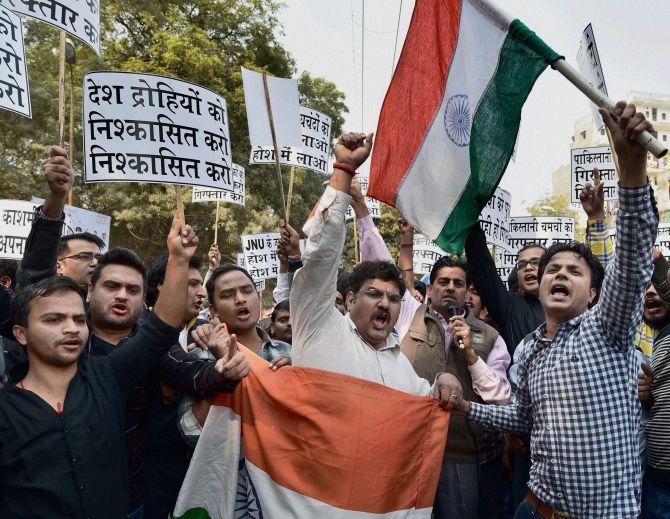 India "routinely" uses vaguely-worded laws like sedition and criminal defamation as "political tools" to "stifle" dissent, a leading rights group said on Tuesday while calling on the government to repeal or amend such laws that are used to criminalise peaceful expression.
The Human Rights Watch in a lengthy 108-page report titled 'Stifling Dissent -- The Criminalisation of Peaceful Expression in India' stressed that Indian authorities should stop treating critics as criminals and not use "vaguely worded, overly broad laws", which are prone to misuse, and have been repeatedly used for political purposes against critics at the national and state level.
The report called on the government to review all these laws and repeal or amend them to bring them in line with international law and India's treaty commitments.
It said while India's Constitution protects the right to freedom of speech and expression, recent and colonial-era laws, such as sedition and criminal defamation, are frequently used in an attempt to clampdown on critics.
"Indian authorities routinely use vaguely worded, overly broad laws as political tools to silence and harass critics," the HRW said in the new report.
The government should repeal or amend laws that are used to criminalise peaceful expression, the report said.
"India's abusive laws are the hallmark of a repressive society, not a vibrant democracy," said Meenakshi Ganguly, South Asia director at Human Rights Watch.
"Putting critics in prison or even forcing them to defend themselves in lengthy and expensive court proceedings undermines the government's efforts to present India as a modern country in the internet age committed to free speech and the rule of law," she said.
The report, which cited the arrest of student leader Kanhaiya Kumar and the ensuing unrest at the Jawaharlal Nehru University earlier this year, said criminal laws are used to limit and chill free speech in India.
"Vague laws are used to stifle political dissent, harass journalists, restrict activities by non-governmental organisations, arbitrarily block internet sites or take down content, and target marginalised communities and religious minorities," it said.
The report said one of the "most abused laws" in the country is the sedition law, which has been used by successive governments to arrest and silence critics.
The abuse of the sedition law became subject of national debate after Kumar was arrested for sedition in February.
The report said that while Prime Minister Narendra Modi has frequently said he is committed to upholding the right to freedom of speech, his government has "not only failed to address laws which are frequently used to crush these rights, but has used them, as did previous governments, to treat criticism as a crime."
The report also cited the October 2015 arrest of folk singer S Kovan by authorities in Tamil Nadu under the sedition law for two songs that criticised the state government for allegedly profiting from state-run liquor shops at the expense of the poor.
The HRW said criminal defamation laws should be abolished because they can lead to very harsh consequences, including imprisonment.
"Sedition and criminal defamation laws are routinely used to shield the powerful from criticism, and send a message that dissent carries a high price," Ganguly said.
Many countries in the region also have anachronistic British colonial laws on the books, and India should lead reform efforts.
"India's courts have largely been protective of freedom of expression but as long as you have bad laws on the books, free speech will remain under threat," said Ganguly.
"It is an enormous irony that India projects itself worldwide as a government embracing technology and innovation, yet is relying on century-old laws to clamp down on critics. India has an opportunity and the responsibility to launch reforms immediately, which could set a positive example to other countries in the region similarly bogged down by antiquated laws," it said.
The report recommended that India should develop a clear plan and timetable for the repeal or amendment of laws that criminalise peaceful expression.
Authorities should also drop all pending charges and investigations against those who are facing prosecution for the exercise of their right to freedom of expression and assembly and should train the police to ensure inappropriate cases are not filed with courts.