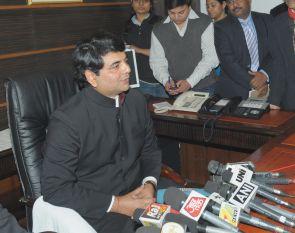 India is ready to provide full medical assistance to death row convict Sarabjit Singh, lying in coma in a Lahore hospital after a brutal assault, the government said on Monday.
"It is our endeavour and we will do whatever in our hands to make sure that all proper medical treatment is given to Sarabjit Singh -- whether it is Pakistani doctors or medical experts from foreign countries. We are also ready to provide full medical assistance, if there is a need for any assistance from our side," Minister of State for Home R P N Singh said.
Talking to reporters outside Parliament House, he said Sarabjit was in "a very serious condition" and his family members' demand that he should be brought back to the country is an issue which the government can take up with Pakistani authorities through diplomatic channel.
"It is something we can talk to them diplomatically," he said when asked about the demand.
"...First priority is that he should recover. He should be looked after. Whatever medical treatment he needs, it should be provided to him. We are in constant touch to make sure his safety and health," Singh said, terming as "extremely unfortunate" the assault on Sarabjit in Kot Lakhpat Jail.
Sarabjit, 49, sustained several injuries, including skull fracture, when six prisoners attacked him in Kot Lakhpat Jail on Friday and doctors said his chances of survival are slim.
He was convicted of alleged involvement in a string of bomb attacks in Punjab province that killed 14 people in 1990 and mercy petitions were rejected by the courts and then President Pervez Musharraf.