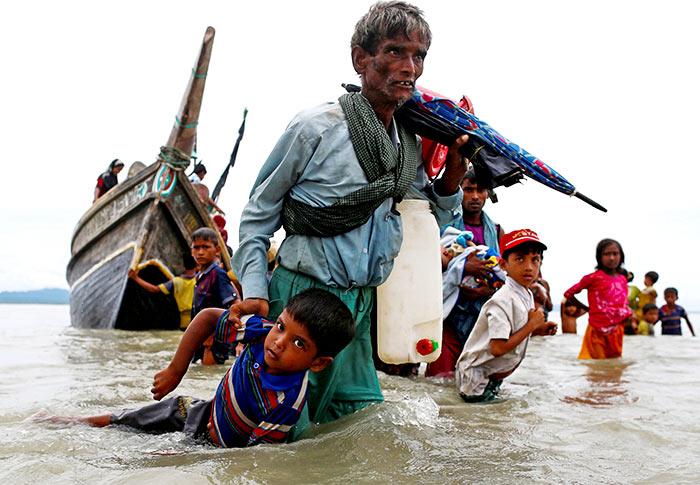 External Affairs Minister Sushma Swaraj has expressed solidarity with Bangladesh over the Rohingya crisis and said India is putting pressure on Myanmar to take back refugees who have fled the Buddhist-majority nation, a top aide of Bangladesh prime minister has said.
More than 3,00,000 Rohingya have poured into Bangladesh since the latest flare-up in violence on August 25, adding to around 300,000 refugees already living in Bangladesh, close to the border with Myanmar.
"She (Swaraj) called our prime minister last night and conveyed her country's solidarity with Bangladesh over the Myanmar refugee issue," Prime Minister Shiekh Hasina deputy press secretary Nazrul Islam said.
Swaraj, he said, told the Bangladesh premier that the crisis by now appeared as an international issue while India was trying to put 'pressure bilaterally and multilaterally on Myanmar to stop persecution on ethnic minority Rohingya Muslims' and take back the refugees who fled to Bangladesh.
According to the spokesman, Hasina, on the other hand, said Bangladesh was forced to offer refuge to the refugees on humanitarian ground as they fled their home at Myanmar's western Rakhine state to evade atrocities.
He said Hasina explained to Swaraj the helplessness and miseries of the refugees, particularly of the minor children and women, and said Bangladesh is trying to address their basic needs.
"She (Hasina) told Swaraj that Bangladesh required external supports to handle the refugee issue and return them to Myanmar," the spokesman said.
Hasina said her government allocated land for makeshift shelters of the Rohingyas 'but, it will certainly create a big problem for Bangladesh if they stay for long'.
The premier's spokesman said the Indian high commissioner in Dhaka Harsh Vardhan Shringla was present at the Hasina's Ganabhaban residence when Swaraj called.
Swaraj's call came hours after the external affairs ministry issued a statement expressing India's readiness to provide Bangladesh "any assistance" in tackling the refugee crisis.
India, on Thursday, rushed 53 tonne of relief materials to Bangladesh and pledged all help to Dhaka in tackling the humanitarian crisis.
Shringla said India will provide 7,000 tonnes of relief materials to Bangladesh.
Dhaka earlier said Bangladesh required India's assistance in its efforts to handle the situation and send the refugees back home.
"The entire world today is worried with the Rohingya issue (and) their (India's) concern and stand beside us is very crucial at this moment," ruling Awami League general secretary and senior minister Obaidul Quader said earlier this week.
IMAGE: A Rohingya refugee pulls a child ashore after crossing the Bangladesh-Myanmar border by boat. Photograph: Danish Siddiqui/Reuters