The world's 'most persecuted minority', the 'most oppressed people in the world' are just a couple of ways to describe the Rohingyas of Myanmar.
An ethnic group, the majority of whom are Muslim, the Rohingyas have lived for centuries in the majority Buddhist Burma, or Myanmar as it is called now.
Currently, about 1.1 million Rohingyas live in Myanmar.
The Rohingyas are not considered one of the country's 135 official ethnic groups and have been denied citizenship in Myanmar since 1982, which has effectively rendered them Stateless.
Due to the ongoing violence and persecution, hundreds of thousands of Rohingyas have fled to neighbouring countries either by land or boat over the course of many decades.
Bangladesh security forces have instructions to not let them in.
India, too, said it would deport nearly 40,000 Rohingyas.
As the world looks on in helpless horror, a look at the pitiable conditions the Rohingyas live in.
\
A Rohingya refugee bathes outside a temporary shelter at the Balukhali makeshift refugee camp in Cox's Bazar, Bangladesh.
The Rohingyas live in cramped and unhygienic camps facing disease, hunger and uncertainty about the future.
Photograph: Danish Siddiqui/Reuters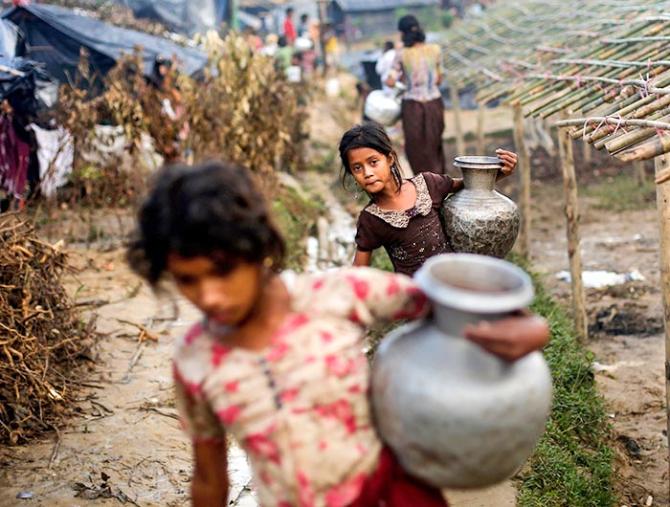 In the Balukhali camp alone, some 3,000 Rohingya arrived from their villages in Rakhine, Myanmar.
They live in these camps without enough food and water.
Photograph: Danish Siddiqui/Reuters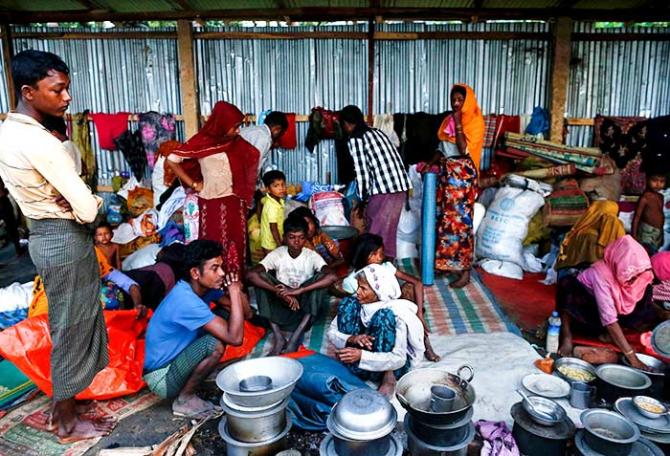 According to some reports, around 180 people share one toilet.
The Balukhali camp is set up near salt fields and offers little protection from harsh weather conditions and wild animals.
Photograph: Danish Siddiqui/Reuters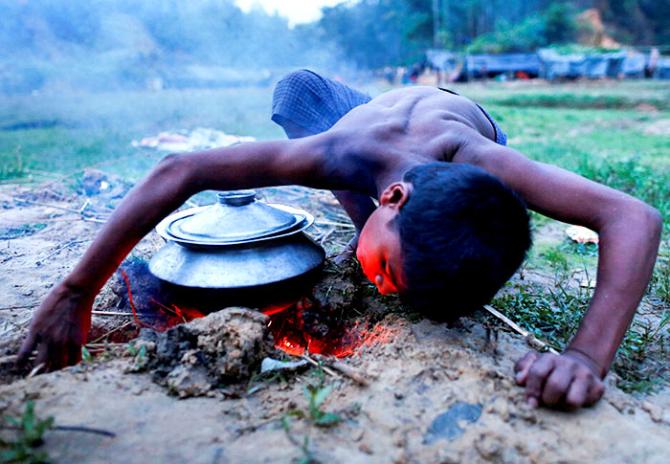 A Rohingya refugee boy lights a fire to cook food outside his temporary shelter in Bangladesh.
Every fortnight, the World Food Programme gives 25 kg of rice and fortified food to the most vulnerable Rohingya families in the camps.
Photograph: Danish Siddiqui/Reuters
A Rohingya refugee woman sits with a child outside their temporary shelter on a hill in Bangladesh.
'It's becoming a silent crisis which does not have the international attention that it deserves,' says Ezekiel Simperingham of the Red Cross, 'given the scale of the needs of the people and the uncertain future they are facing.'
Photograph: Danish Siddiqui/Reuters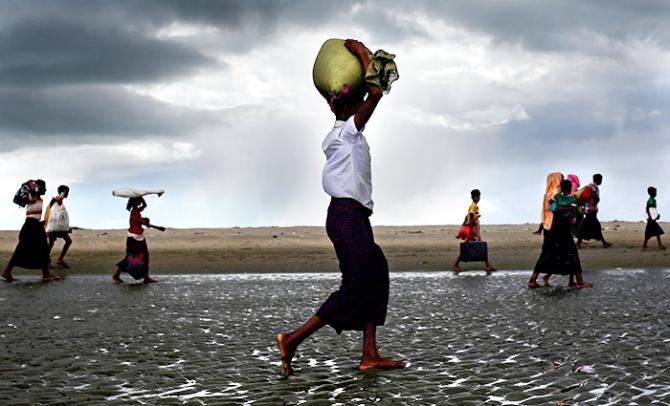 Rohingya refugees walk ashore after crossing the Bangladesh-Myanmar border by boat through the Bay of Bengal in Shah Porir Dwip, Bangladesh.
The Rohingyas have been fleeing Myanmar after hundreds were raped, murdered by the Myanmar army.
Photograph: Danish Siddiqui/Reuters
An exhausted Rohingya refugee touches the shore after crossing the Bangladesh-Myanmar border by boat.
Photograph: Danish Siddiqui/Reuters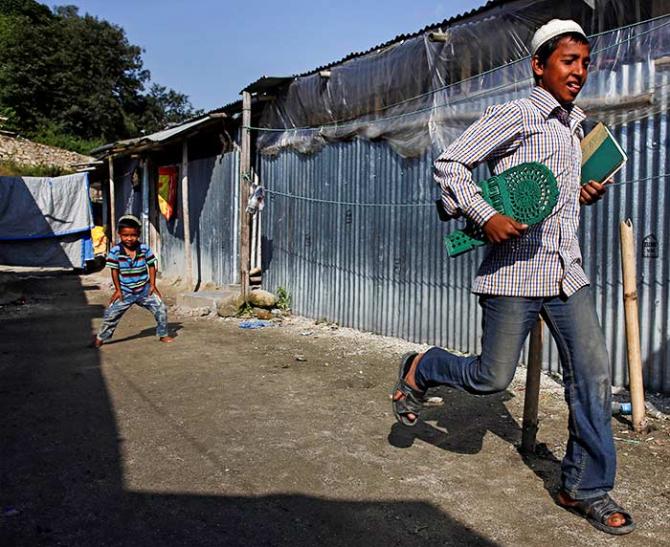 A Rohingya refugee boy carrying a Koran runs along the shelters made of corrugated metal in Kathmandu, Nepal.
About 300 Rohingya refugees have lived in Nepal since 2012 in two tin roofed camps on the outskirts of Kathmandu.
Many of them say they want to go back home if they are guaranteed security, peace and equal treatment.
Photograph: Navesh Chitrakar/Reuters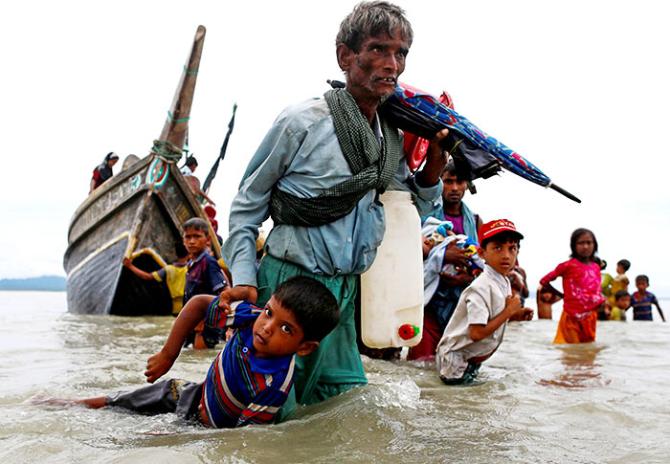 A Rohingya refugee pulls a child ashore after crossing the Bangladesh-Myanmar border by boat.
The UN estimates that 74,000 Rohingyas have crossed the border into Bangladesh since Myanmar began a military crackdown in northern Rakhine state following attacks on border guards on October 9 last year.
Photograph: Danish Siddiqui/Reuters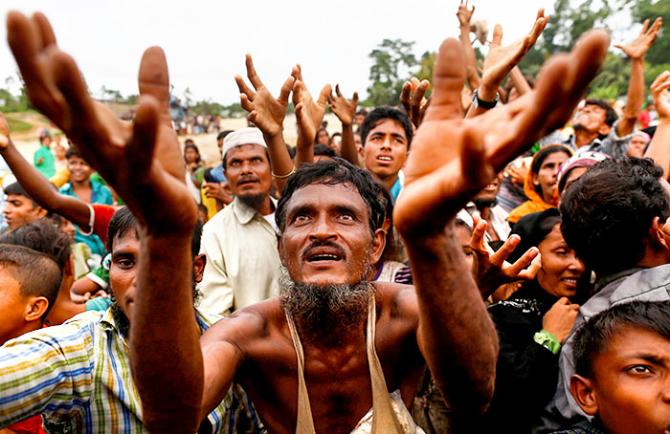 Rohingyas jostle for food packages distributed by organisations in Kutupalong.
The Bangladeshi government has strongly discouraged the distribution of aid to Rohingya refugees and banned three NGOs from doing so, saying it will encourage more to cross the border.
Photograph: Danish Siddiqui/Reuters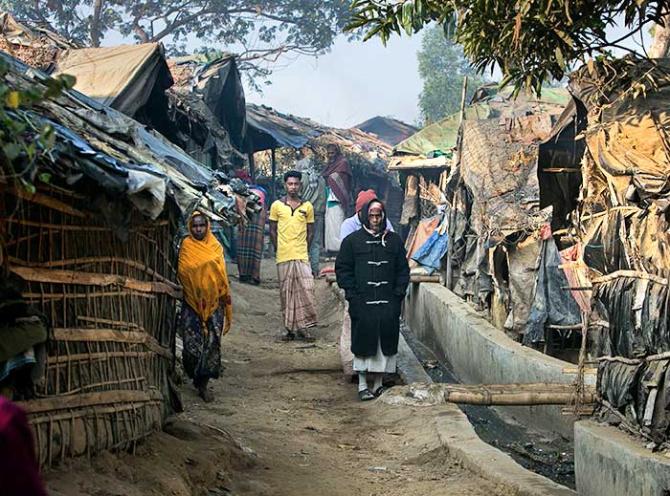 Look in any direction around the sprawling Kutupalong refugee camp and misery stares back.
Whole families, sick people, injured people, the aged and parents with newborn children scramble for scarce space, food, water and shelter.
Photograph: Allison Joyce/Getty Images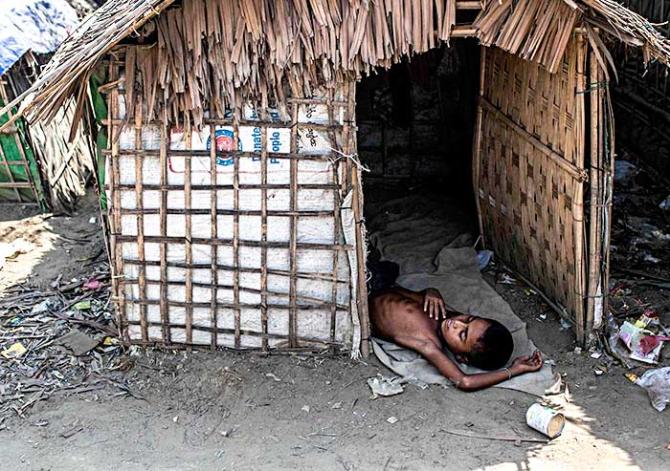 A Rohingya boy takes a nap in his family's temporary shelter next to the Baw Du Pha internal displacement camp in Sittwe, Myanmar.
Photograph: Lauren DeCicca/Getty Images