The number of tigers in India has increased from 2,967 in 2018 to 3,682 in 2022, an annual rise of 6 per cent, according to the latest government data released on the International Tiger Day on Saturday.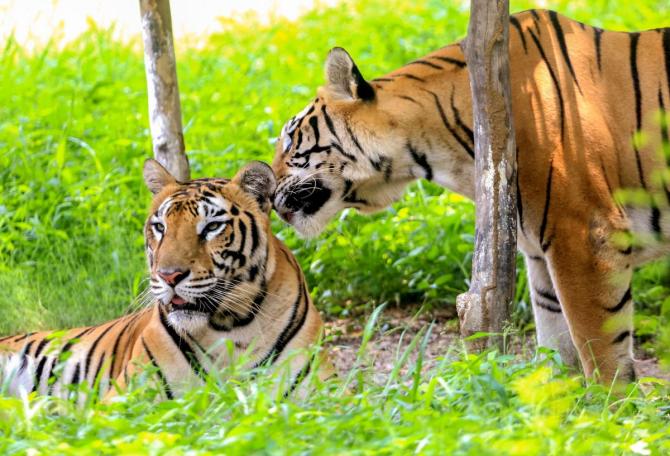 With this, India has become home to approximately 75 per cent of the world's tiger population, Union Minister of State for Forest, Environment and Climate Change Ashwini Kumar Choubey said in Ramnagar while releasing the data for 2022.
When Prime Minister Narendra Modi released the "Status of Tigers 2022" to mark the completion of 50 years of "Project Tiger" in April, the government had said there are at least 3167 tigers in India. Tiger census is held every four years in the country.
"There are a maximum of 3925 tigers in the country. The average number is 3,682," a senior official from the National Tiger Conservation Authority (NTCA) said.
With a 50 per cent increase in the last four years, Madhya Pradesh has the maximum number (785) of tigers in the country, followed by Karnataka (563), Uttarakhand (560), and Maharashtra (444), according to the data.
In his message on the occasion, Union Minister of Forest, Environment and Climate Change Bhupender Yadav said, "India's exemplary efforts in tiger conservation and the increase in tiger numbers is not just a statistic but a testament to the determination and commitment of the nation.
"Under the ambit of tiger conservation, India has not only successfully safeguarded its tiger population, but also has secured the future of all life forms, truly in line with our philosophy of 'Vasudhaiva Kutambakam'."
He also took to Twitter to congratulate Madhya Pradesh for the achievement.
"With 785 tigers as per the latest tiger estimation exercise, MP is the Leading Tiger State of India! This reflects MP's commitment to conserving tigers through intensive protection and monitoring by involving local communities," he said.
However, the data shows, states such as Arunachal Pradesh, Odisha, Telangana, Chhattisgarh and Jharkhand have recorded a dip in the number of majestic cats in the last few years.
The ministry has called for serious conservation efforts to aid in the recovery of the tiger population in these states.
According to data analysis done by the Wildlife Institute of India, the upper limit of the tiger population is estimated to be 3925 and the average number is 3682 tigers, reflecting a commendable annual growth rate of 6.1 percent per annum, the ministry said.
In his address, Choubey said, "Nature protects those who conserve nature. So, nature and wildlife must be protected at any cost."
Arunachal Pradesh lost around 70 per cent of its tigers -- from 29 in 2018 to just 9 in 2022.
The number of tigers dropped from 28 to 20 in Odisha, from 5 to 1 in Jharkhand, from 19 to 17 in Chhattisgarh and from 26 to 21 in Telangana.
The count dipped from 6 in 2006 to nil in 2022 in Mizoram and from 10 in 2006 to just 2 in 2022 in northern West Bengal. Nagaland also does not have any tigers now, according to the data.
Approximately, 35 per cent of the 53 tiger reserves in India urgently require enhanced protection measures, habitat restoration, ungulate augmentation, and subsequent tiger reintroduction, the Union environment ministry said in a statement.
The number of tigers "within the tiger reserve" is highest in Corbett (260), followed by Bandipur (150), Nagarhole (141), Bandhavgarh (135), Dudhwa (135), Mudumalai(114), Kanha (105), Kaziranga (104), Sundarbans (100), Tadoba (97), Sathyamangalam (85), and Pench-MP (77).
Eighteen tiger reserves have less than 10 big cats left.
These are Ranipur in Uttar Pradesh; Achanakmar, Indravati and Udanti Sitanadi in Chhattisgarh; Palamau in Jharkhand; Bor and Sahyadri in Maharashtra; Satkosia in Odisha; Mukundara and Ramgarh Vishdhari in Rajasthan; Kawal in Telangana; Kalakad Mundanthurai in Tamil Nadu; Nameri in Assam; Dampa in Mizoram; Pakke, Kamlang and Namdapha in Arunachal Pradesh and Buxa in West Bengal.
Released in April, the "Status of Tigers 2022" report highlighted both encouraging and concerning trends in tiger populations across various landscapes.
The tiger population in the forest divisions of the Shivalik Hills and Gangetic Plains landscape has experienced a significant surge: 804 unique tigers have been photographed in these regions, surpassing the estimated 646 population in 2018.
This increase in tiger numbers has been attributed to photographic evidence showing tigers in new areas of Uttar Pradesh and Himachal Pradesh, raising hopes for range expansion in these regions.
The Western Ghats witnessed a decrease in tiger occupancy, except for a few areas like Kali (Anshi Dandeli), where the number of unique tigers remains stable. The report pointed to "increasing human footprint and development" as the primary reasons behind the declining tiger population in the Western Ghats and stressed the need to address the issue of human-mega herbivore and carnivore tensions in this vital biodiversity hotspot.
Moving to the Northeastern Hills and Brahmaputra Plains landscape, while the number of distinctive tigers captured on camera decreased to 194 from the estimated 219 in 2018, the report assured that the tiger population in the region is still "secure".
However, due to its small size and genetic uniqueness, intensive conservation efforts are necessary to protect the tiger population from threats such as habitat loss, poaching, and human-wildlife conflict, it said.
Central India has seen an increase in the tiger population, with 1,161 tigers photographed compared to the estimated 1,033 in 2018. While this expansion of tiger habitats is positive, urgent attention and conservation efforts are required in areas where local tiger populations have become extinct, including reserves like Kawal, Satkosia, and Sahyadri, to prevent the extinction of small populations and mitigate human-tiger interactions, the government said.
In the Sundarbans, 100 tigers were captured on camera in 2022 compared to 88 in 2018. The population remains steady, but there is limited potential for range extension. To preserve the ecological integrity of the Sundarbans, the report stressed the importance of cross-border collaboration and knowledge exchange between India and Bangladesh.
Attending the programme in Ramnagar virtually, Uttarakhand Chief Minister Pushkar Singh Dhami said a balance between ecology and economy is a must.
He also sought more resources from the Centre to curb man-animal conflicts and illegal poaching of animals.
The programme was also addressed by Union Minister of State for Defence and Nainital MP Ajay Bhatt, Director General (forest) Chandra Prakash Goyal and NTCA member secretary SP Yadav.
Apart from the All India Tiger Estimation 2022 report, a report on the reserves and management effectiveness and evaluation report were also released.
Six tiger reserves in the country -- Kali, Melghat, Pilibhit, Tadoba Andhari, Navegaon and Periyar -- were given CAT awards.