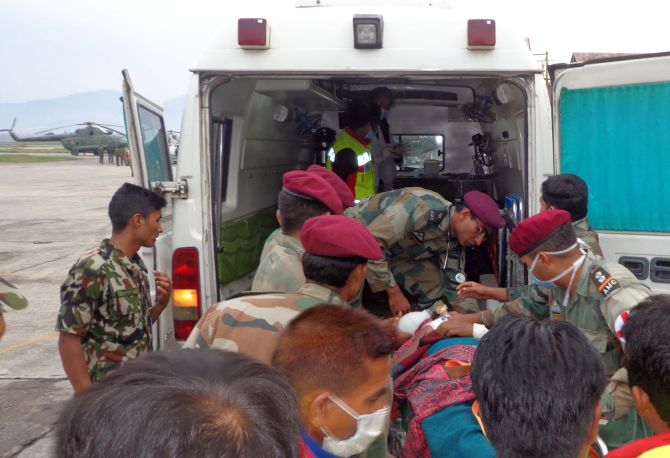 India on Wednesday said it is focusing on Nepal's capital Kathmandu and the worst-affected Gorkha district for its rescue and relief efforts in the quake-hit country.
"India has focused its assistance in two parts of Nepal. The first one is the capital-Kathmandu and the second one is Gorkha district which was epicentre of the earthquake," Indian ambassador to Nepal Ranjit Rae said.
Rae accompanied by Deputy Prime Minister of Nepal Bam Dev Gautam visited the site of a collapsed six storey residential building in Kathmandu district.
With the help of National Disaster Response Force, rescue work was carried out and ten bodies were recovered from the building. 30 NDRF personnel from India were part of this operation.
Over 500 personnel from NDRF are currently in Nepal to carry out the rescue operations.
"We are fully committed to help government of Nepal in this gigantic disaster. We express our solidarity with the people in this tragic moment and will continue our cooperation towards the government of Nepal as long as it is required," Rae said.
India has also made arrangement for evacuation of Indian citizens from Kathmandu to return to their homes and most of them have been sent back via land route. Buses from UP and Bihar have come to take the people back, while injured have been air-lifted back to India.
"India's assistance to help Nepal in this disaster was quite satisfactory. We are thankful to Indian government for their help and India has helped in every moment of crisis in the past," Gautam said.
"This time also India provided help in the process of rescue and relief. The first phase of rescue has almost been completed and the second phase of distributing relief material has already begun. Then we have to manage for rehabilitation and reconstruction which is very challenging job and we will need huge funds for that," Gautam said.
"The government has provided relief material as per its capacity, though it was not sufficient as the disaster was far away from imagination. We need dry food, tents and medical goods for carrying out relief works," Gautam said.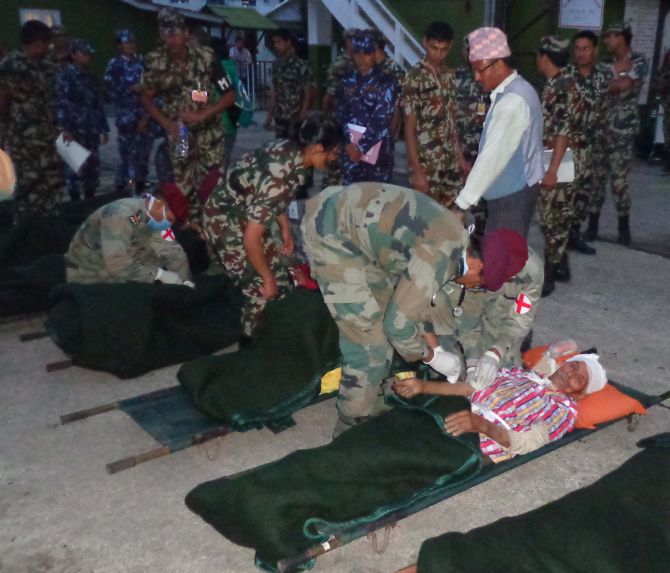 A 7.9-magnitude earthquake jolted the Himalayan nation on Saturday followed by several aftershocks that left a trail of death and destruction. The powerful trembler flattened houses and buildings.
The death toll in the quake has climbed to over 6,000 with another 11,000 others injured in the disaster, Gautam said.
Images: Army personnel involved in rescue and relief under Operation Maitri evacuate the injured.