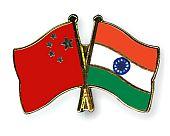 Highlighting the growing importance of India and China in the region, a top Indian diplomat said the choices these two nations will make would not only impact them but also affect the world.
Arun K Singh, the Deputy Indian Ambassador to the US in a speech on India-China relationship said New Delhi believes it is in the mutual interest of India and China to work together, bilaterally and with other partners, to reduce uncertainty and create an international environment that is supportive to their domestic transformation efforts.
His remarks came after Indian External Affairs Minister Salman Khurshid described China as a part of a larger picture and said China is more important in terms of our global vision.

"The choices that India and China today make, therefore, affect the world," he said.
"The simultaneous emergence of India and China as Asian and global powers in fact makes it imperative for them to be sensitive to each other's interests and aspirations," said
Singh in his address to the seminar organized by the Foundation for India and Indian Diaspora Studies.

"The prevailing global paradigm of cooperation among major powers also demands from the two countries that they work together to mutually support their rightful place in the comity of nations," he said.
Adding he said India believes that there is enough space and opportunity in Asia and beyond for the two countries to grow and realize their development aspirations simultaneously.
"I would not gloss over the fact that there is an element of competition co-existing with the elements of cooperation in the India-China relationship. There is no doubt that China's rise has implications for not just India but the entire world.

But India does not believe that there is any inherent antagonism between the two countries. The important point is that both Governments have handled the relationship well to expand on the areas of cooperation, and to minimize the salience of competition," Singh said.
Serving as the Deputy Chief of Mission, Singh before coming to Washington DC was the Indian Ambassador to Israel. The day-long seminar was attended by a galaxy of American experts on India-China relationship.

Noting that today India and China are engaged in a positive way to expand their commonalities with extensive dealings in bilateral, regional and multilateral forums; Singh said the determination by the two countries to qualitatively elevate their ties by establishing a "strategic and cooperative partnership for peace and prosperity" reflects their shared conviction that India-China relations have now acquired a long-term, global and strategic character and hence, must be treated as such.
Given the similarities in the developmental and historical experiences of India and China, the two countries have taken common or similar positions on the global development agenda, in WTO, in G-20, on issues relating to climate change, on reform of international financial institutions, the Indian diplomat said.

"Sceptics, though, argue that notwithstanding various strands of existing cooperation, India and China are bound to be strategic adversaries. Such determinism is misplaced, and ignores the successful experience and maturity of both governments in managing differences and building on commonalities for over three decades now," he said.
"The issue is how we could continue to manage the elements of competition within an agreed strategic framework which permits both of us to pursue our core interests."
"Indeed, one may say that the rapid changes in the international situation today create an opportunity for India and China to work together and with others to shape a global order of peace and prosperity," he added.
Acknowledging that the boundary question remains unresolved, is a 'difficult issue', Singh, said, however, a number of mechanisms have been put in place to ensure that the border stays peaceful while the two countries seek a settlement of the boundary question.
"On the settlement itself, we are in the second stage of the three stage process of agreeing principles, a framework and finally a boundary line," he said.
Singh said some security challenges, especially of the non-traditional variety, are common to India and China, and offer an opportunity to work together.
"Both India and China face the challenge of terrorism in our shared neighbourhood. It requires common effort by all members of the international community to tackle terrorism," he said.
"Energy is the key to domestic transformation in both India and China, which is why both of us have a common stake in energy security, and in the freedom and security of transportation on the global commons. We both have an interest in global public goods like a peaceful order, freedom of the seas and open sea lanes.
"We similarly need to address issues of piracy with common resolve. As important maritime nations, we can contribute to each other's maritime security by coordinating approaches," he said.
Observing that Asia's security is interlinked across this great continent, Singh said with China's growing comprehensive national strength, there is need for dialogue on architecture of cooperation in Asia.
"India has argued for an open, balanced and inclusive Asian security architecture. India and China will have key roles to play in forging a new compact for common and collective security for Asia. We should also contribute within our capacity