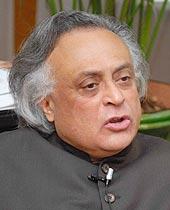 Union Minister for Environment and Forests Jairam Ramesh has predicted that the issue of climate change is likely to figure on the agenda when Prime Minister Manmohan Singh visits Washington, DC on November 24, on a State Visit, at the invitation of United States President Barack Obama.
Ramesh, speaking at a gala dinner hosted by Dr Rajendra K Pachauri -- chairman of the Intergovernmental Panel on Climate Change and director-general of the Energy and Resources Institute and director of the Yale Climate and Energy Institute -- said that in Washington, he had had 'useful and constructive discussions' with Todd Stern, the Obama administration's point man on climate change.
"We are continuing the process of dialogue that we started a couple of weeks ago. I can assure you that the areas of convergence between the United States and India are far greater than the areas of divergence that seem to get media headlines," he said.
Ramesh said that he had met with US Congressman and Massachusetts Democrat Ed Markey, who has authored climate change legislation in the House and also Congressman and Washington Democrat Jim McDermott, the co-chair of the Congressional Caucus on India and Indian Americans. "The message that I conveyed to them is that India is proactive, India is constructive," said Ramesh.
Recalling United Nations Secretary General Ban Ki Moon's exhortation to 'seal the deal', he asserted, "I can assure you that India will not be a deal breaker, India will be a deal maker."
He said that on May 29, "when I took charge of this ministry, the prime minister's only words to me were, 'Remember that we didn't cause the problem of global warming, but make sure that you are part of the solution.'"
Ramesh said Dr Singh had told him to "make sure that you are out there, negotiating from a position of leadership because we are the most vulnerable to global warming and its effects, and we should also be concerned about the local impact of global warming, to be also prepared to show to the world that we are responsible, environmental citizens."
 "The whole area of green technologies is an area in which Indian business, instead of being passive recipients of technology from the world, can in fact emerge as active suppliers of technology to the rest of the world," he said.
"I have no doubt in my mind that in the next 15-20 years, a number of Indian companies would emerge as world leaders in wind, solar, in nuclear, in clean coal -- in a variety of areas that have a direct bearing on climate change," he said.
Thus, Ramesh reiterated that "I do want to reassure you that we are taking on very aggressively domestic obligations and we will engage the United States," on this issue.
He noted that "the prime minister will be here on November 24 for his state meeting with the President of the United States, and this will be, I am sure, an important element in the discussion," and predicted, "By then, we would have made a clarity on what India would be able to reassure the world community by way of its domestic obligations being reflected as part of an international agreement in Copenhagen."
Ramesh added, "Whether we reach an agreement in Copenhagen or not remains to be seen, but I am sure that we will make a good beginning and India, for its part, will be out there working with the United States, working with China, working with the European Union, working with all countries to ensure that we have a fair and equitable agreement, with which we can all abide by and actually implement and not take on obligations like we did in the past that were never fulfilled."
The gala dinner was attended by top US and Indian policymakers, diplomats and other leading lights in the climate change and environment area, including former vice president and Nobel laureate Al Gore, US Senator and chairman of the Senate Foreign Relations Committee John F Kerry, US Congressman Steve Israel, India's Minister of New and Renewable Energy Farooq Abdullah and Indian Ambassador Meera Shankar.
The evening capped off a full day conference on US-Energy Partnership Summit, which  explored opportunities for US-India partnerships to promote clean energy and combat climate change, convened by Yale University and TERI.
The event also raised a toast to the Lighting a Billion Lives project conceived by Pachauri, which had come alive at the Clinton Global Initiative's annual meeting in New York in 2007, when TERI pledged to bring light into the lives of one million rural people over four years. This was subsequently expanded to cover one billion people, whose kerosene and paraffin lanterns the project seeks to replace with solar lamps.
Ramesh paid kudos to Pachauri for this initiative and said 'it's really a tribute to the activism that a research organisation has played -- that he has taken on this responsibility."
"We look to leadership from Dr Pachauri, we look forward to his continuing advice," he added.
Turning to Gore, Ramesh said, "You continue to be a source of inspiration to all of us," and then to peals of laughter, joked, "Had India transferred the technology of, what I call electoral technology, the outcome of the presidential election in 2000 may have been different".
On a serious note, referring to the climate change bills circulating in the US Congress, Ramesh said, "Although there may be points of disagreement on the specifics," the fact that the US had decided to re-engage was a great signal.
The bills showed "that the United States is re-entering the mainstream of international environmental negotiations," said Ramesh.
He said that there could be arguments about percentages, 'cap, trade, who caps, who trades, but the important signal is very, very reassuring, and it's up to the rest of the world community to create a condition that will be conducive," to take to Copenhagen.
Ramesh declared, "And, in this, India will play its role and I think bilaterally also, India and the US can take on many tasks together and we have a very large agenda to discuss between now and November 24, and I am sure we will be convening very soon a whole slew of cooperation in this area."
He emphasised his keenness on this score and said, "One of the objectives of my visit here is a long term relationship between the Environmental Protection Agency and the EPA that we are creating in India."
"We have the best laws in India, but we don't have the executive institutions to implement," he said, and pointed out that "most of these laws are being implemented by the judiciary."
But, Ramesh reiterated that "we are determined to have a world-class National Environmental Protection Authority and in this we are seeking a partnership with the US."
Consequently, he said, India looked forward "to working with the United States towards Copenhagen and beyond."