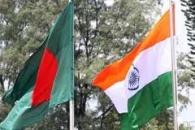 Cross-border movement of criminals, and smuggling of firearms and narcotics are expected to dominate a crucial bi-annual border talks between India and Bangladesh that began in Dhaka on Sunday.
"The formal talks has begun at the Border Guard Bangladesh headquarters...," a spokesman of Bangladesh Rifles said.
For the five-day director-general level talks, a 20-member Indian delegation was led by Border Security Force chief Subhash Joshi, while Bangladesh was represented by a 19-member team headed by Border Guard Bangladesh Director-General Major General Aziz Ahmed.
Issues like cross-border movement of criminals, and smuggling of firearms and narcotics, including Phensidyle, heroin and Yaba, into Bangladesh are in our agenda to be discussed, a BGB official said.
"The two sides would sign a joint record of discussion during the conference," the BDR spokesman said.
The BGB official said issues relating to "killing, torture and abduction of unarmed Bangladeshi civilians along the border and reported deployment of UAV (unmanned aerialvehicle) on the frontier skylines" are expected to dominate the talks.
The last director-general level meeting between the two countries was held in New Delhi in March. Ahead of the talks, India in a goodwill gesture sent back a nine-year-old Bangladeshi girl, who had illegally crossed border along with her mother and brother over four years back, with the BSF delegation which landed in Dhaka yesterday.
The Indian gesture was widely welcomed in mainstream Bangladesh media.