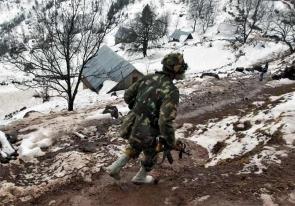 Shots were fired at an Observation Post of the Border Security Force in Akhnoor sub-sector of Jammu district by Pakistani snipers on Sunday, prompting Indian troops to retaliate.
"There was sniping attempt from the Pakistan side today. One sniper round came from across on OP in Maljodha Border Out Post," a BSF officer said on Sunday.
The jawan deployed at OP narrowly escaped.
"There was no loss of life or injury to anyone in the firing," officer said.
Troops guarding the borderline in Akhnoor sub-sector of Jammu district retaliated, he said.
This is the third incident of sniper firing from Pakistan on Indian posts along the IB in Jammu frontier areas during over a period of one month.
Image: A soldier of the Indian Army patrols near the border with Pakistan ' Photograph: Reuters