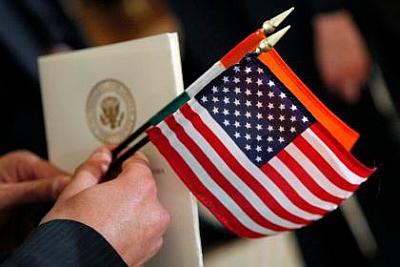 Indian and American experts on Wednesday held detailed discussions on a range of implementation issues, including administrative, liability, technical and licensing matters to advance the operationalisation of Indo-US civil nuclear cooperation that has been in limbo for past 9 years.

Pursuant to the joint decision by Prime Minister Narendra Modi and US President Barack Obama during Modi's visit to the US in September, the first meeting of the India-US contact group, comprising relevant experts from both sides, on civil nuclear cooperation took place in New Delhi, External Affairs Ministry said.

"As mandated by the two leaders, the group held detailed discussions on a range of implementation issues, including administrative issues, liability, technical issues and licensing to facilitate the establishment of US-designed nuclear power plants in India.

"The discussions were positive and forward-looking and included representatives of nuclear industries from both sides -- the Nuclear Power Corporation of India from the Indian side and Westinghouse and GE-Hitachi from the US side," the ministry said.

From the Indian side, the inter-agency
contact group had representatives from Department of Atomic Energy and the foreign and finance ministries.
During their two-day meeting, the group agreed to reconvene in early January 2015 to take the discussions forward. Significantly, the meetings come ahead of Obama's visit to India in January when he will attend the Republic Day parade as the chief guest.
Modi and Obama while taking note of the delay had reaffirmed their commitment during their meeting in Washington in September to "implement fully" the US-India civil nuclear cooperation agreement that would facilitate installation of American-origin nuclear reactors in India.
The India-US nuclear deal concluded between the previous Manmohan Singh government and the Bush administration and has been stalled because of issues relating to liability laws.
India has ruled out diluting the Civil Liability for Nuclear Damage Act and hoped a solution to the stalemate caused by foreign companies not agreeing to two of its clauses will be found within the framework of the legislation. The US has wished to see that India was aligned with the International Convention on Supplementary Compensation for Nuclear Damage.