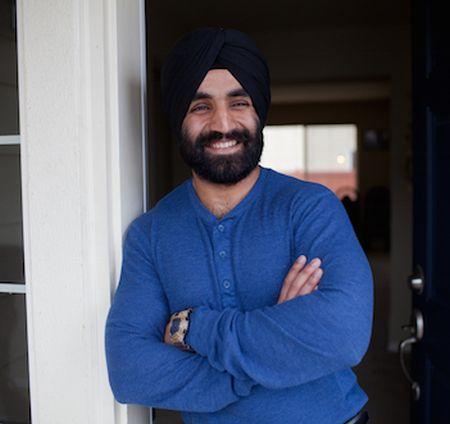 In a rare exception, an active-duty Sikh combat soldier in the United States army has been granted a temporary religious accommodation that allows him to grow his beard and wear a turban, a media report said.
Captain Simratpal Singh, 27, had to cut his hair on his first day at the United States Military Academy at West Point nearly 10 years ago since the army would not allow a soldier with long hair or a beard, a report in the New York Times said.
Last week however, the army finally granted Singh, who led a platoon of combat engineers who cleared roadside bombs in Afghanistan and was awarded the Bronze Star, a religious accommodation under which he is allowed to grow his beard and wrap his hair in a turban.
"It is wonderful. I had been living a double life, wearing a turban only at home," he told the Times.
"My two worlds have finally come back together."
"A true Sikh is supposed to stand out, so he can defend those who cannot defend themselves," he said.
"I see that very much in line with the army values."
The report said that the accommodation is only temporary, lasting for a month while the army decides whether to give permanent status to Singh's exception.
If the army decides against giving a permanent religious accommodation to Singh, the captain could be confronted with the decision of whether to cut his hair or leave the army.
He has said he is prepared to sue if the accommodation is not made permanent.
The report said it is the first time in decades that the military has granted a religious accommodation for a beard to an active-duty combat soldier -- "a move that observers say could open the door for Muslims and other troops seeking to display their faith."
"This is a precedent-setting case," said Eric Baxter, senior counsel at the Becket Fund, a non-profit public interest law firm that specialises in religious liberty.
Currently there are three Sikh-Americans in the US military - Major Kamaljeet Singh Kalsi, Captain Tejdeep Singh Rattan and Corporal Simranpreet Singh Lamba.
Kalsi, a doctor who is a major in the Army Reserve, had got permission to grow a beard in 2009, the first of only three Sikhs to receive permission before Singh.
Singh was inspired to join the army as his Sikh faith encouraged protection of the oppressed but having his hair cut left an indelible impression on him.
"Your self-image, what you believe in, is cut away," he was quoted as saying by the report which added that for a long time after, Singh would shave without looking in the mirror.
Singh stopped shaving during leave before a new assignment this fall and filed for an accommodation with the help of the advocacy group the Sikh Coalition.
He received the temporary accommodation last week and has made his own camouflage turbans to wear to his first day of work.
"I hope this shows others that they can both serve their faith and serve their country," he said.
Lieutenant Colonel Jennifer R Johnson, an army spokeswoman, said future requests for accommodations would be evaluated "on a case-by-case basis, considering the impact on unit and individual readiness, unit cohesion, morale, discipline, and health and safety of the force."
The report said that in recent years, almost all requests for a religious accommodation for a beard have been dismissed.
Sikhs have repeatedly said that lifting the ban is particularly important to them because they have had a long history of military service.
Two Muslims and a Jewish rabbi also have been granted accommodations since 2009 but all apparently served either as chaplains or in specialty medical fields and no combat soldiers had been given religious accommodation before Singh, a spokeswoman for the army said.
Photograph courtesy: The Beckett Fund.