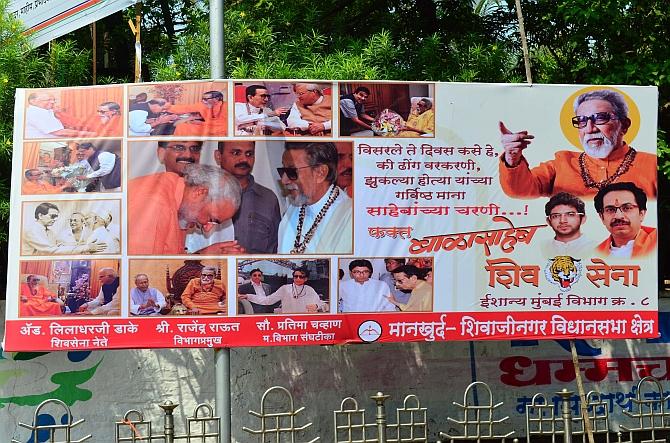 Adding to the growing chasm between National Democratic Alliance partners, Shiv Sena has put up a poster in Mumbai taunting Prime Minister Narendra Modi about the time when the BJP leader "bowed" before its late supremo Bal Thackeray.
The poster at Sena Bhawan in Dadar was put up by the party's East Mumbai unit ahead of Sena's traditional annual Dussehra rally in Mumbai on Thursday. It shows Modi bowing reverentially before Thackeray.
The lines accompanying the photo say: "(Have you) forgotten the days when your (now) proud necks bowed on the feet of late Balasaheb?"
The Sena, however, sought to distance itself from the controversial poster, saying it had nothing to do with it and that the billboard may be the handiwork of some "angry" Sena worker.
A close aide of Sena president Uddhav Thackeray said the poster is not the one that has "official" endorsement of the party.
"Maybe some angry (Sena) worker put it up," the aide said.
Brihanmumbai Municipal Corporation sources said the poster has since been removed.
Maharashtra BJP spokesman Girish Vyas reacted sarcastically to the Sena act, saying that in future one may see posters of Uddhav's son Aditya bowing reverentially before Modi.
Sena has had blow hot and cold ties with BJP from the time the two parties went through a bitter separation before the Maharashtra Assembly polls and then formed an uneasy alliance after the results were declared.
The alliance partners have clashed on a slew of issues, ranging from a nuclear plant in Jaitapur to the distribution of portfolios.
In the recent weeks, Sena has forced the cancellation of Pakistani ghazal singer Ghulam Ali's concerts in Pune and Mumbai and talks between the chiefs of the cricket boards of India and Pakistan besides indulging in the paint attack on Sudheendra Kulkarni, a former BJP strategist, widening the chasm between the NDA partners.
The Sena has resorted to these tactics as part of its aggressive campaign against Pakistani personalities.
Photograph: Sahil Salvi