Delhi Chief Minister Arvind Kejriwal on Saturday appealed to the people of poll-bound Karnataka to give his Aam Aadmi Party a chance to give a corruption-free government for five years.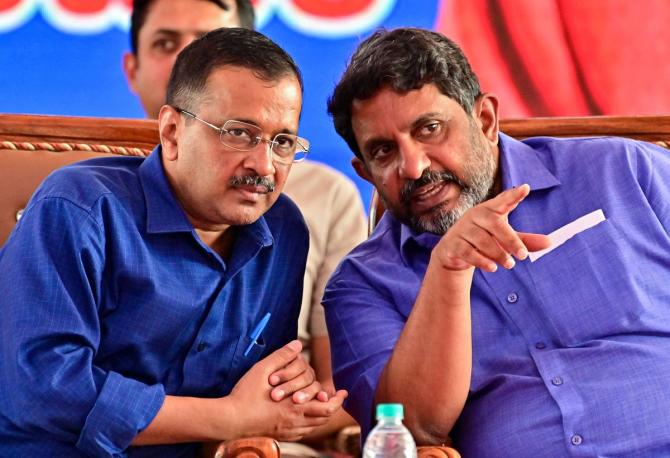 He also promised to give free electricity, quality education in government schools and good healthcare for the state's people.
Addressing his maiden election public meeting in Karnataka, the AAP supremo said the party has zero tolerance for corruption as a minister and an MLA in party-ruled Punjab were jailed.
Taking a dig at the ruling BJP in Karnataka, Kejriwal alleged that there is a 40 per cent commission government running in the state.
In this context, he mentioned the recovery of Rs 8.23 crore unaccounted cash from Channagiri Bharatiya Janata Party MLA Madal Virupakshappa's son Prashanth Kumar M V.
"Recently, Union Home Minister Amit Shah came to Karnataka and appealed to the people to give absolute majority in the upcoming assembly election so that a corruption-free government can be established in the state.
"Then, someone reminded him that already there is a BJP government in the state. I want to ask him why you could not eradicate corruption in the last four years," the Delhi chief minister said.
He said the very next day after Amit Shah flew back to Delhi, a BJP MLA's son was caught with crores of unaccounted cash.
"That MLA and his son who hail from Davangere have not been arrested yet. Instead, Manish Sisodia was arrested," Kejriwal said referring the Delhi Deputy CM Sisodia's arrest by the CBI in the excise policy scam case.
BJP's Virupakshappa has been booked while his son Prashanth, a government officer, was arrested by Lokayukta following raids in several places in the state.
The AAP chief added that the state contractors' association president Kempanna wrote to Prime Minister Narendra Modi that the ministers in Karnataka are demanding 40 per cent commission.
Instead of addressing the octogenarian office-bearer's grievance or taking action against the ministers and MLAs, the 82-year-old contractor was arrested, Kejriwal alleged.
The Delhi chief minister charged that 40 per cent commission is charged from contractors, private unaided schools and Maths (hermitage).
Taking a dig at the BJP, which prides itself as a 'double-engine government' (the BJP ruling both at the Centre and the state), Kejriwal quipped: "Corruption doubles in double-engine government. We need new engine government."
He appealed to the people of the state to give the AAP a chance to transform Karnataka.
"We are staunch honest. We will give a corruption-free government. We will give free electricity, build good government schools and provide quality education," Kejriwal said.
Assembly elections are due in Karnataka by May.