Of the 40 Lok Sabha seats in the state, BJP will contest 20, while the JD-U, LJP and RLSP will contest 12, five and two seats respectively.
M I Khan reports from Patna.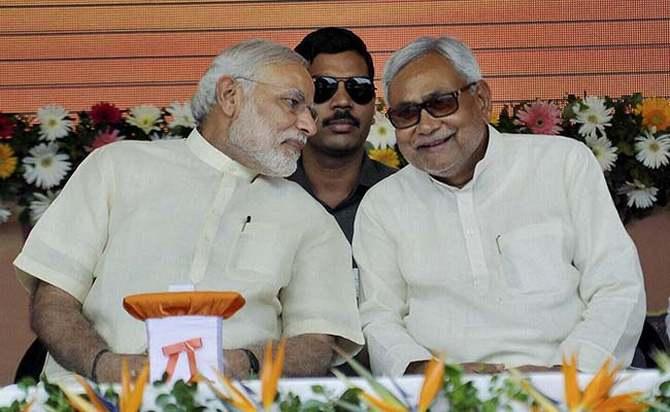 For the first time in Bihar, the Bharatiya Janata Party will play the role of the senior partner in an alliance by contesting 20 of 40 Lok Sabha seats, leaving the rest for its allies the Janata Dal-United, the Lok Janshakti Party and the Rashtriya Lok Samata Party, sources in the saffron party said.
Under the seat-sharing formula of National Democratic Alliance in Bihar for the upcoming Lok Sabha polls, the BJP will contest more than double the seats contested by Chief Minister Nitish Kumar-led JD-U.
According to BJP leaders in Patna, the much-awaited seat-sharing plan in Bihar has been finalised with the BJP to contest 20 seats, leaving the remaining 20 for its allies.
Though a formal announcement in this connection is yet to be made, sources in the BJP circles said the party has decided to contest 20 seats.
"The BJP would contest 20 seats, the JD-U 12 seats, the LJP five and the RLSP will contest two seats. A splinter group from the RLSP will contest one seat," a senior BJP leader in Patna said.
In the 2014 Lok Sabha polls, the BJP contested 30 seats in Bihar and won 22.
Its allies LJP and RLSP won six and three seats respectively. The BJP performed better than its leaders expected when it contested without the JD-U first time since the 1996 Lok Sabha polls.
In 2014, the JD-U contested on its own after ending its 17-year-old alliance with the BJP in 2013, but performed poorly, winning just two seats.
In 2009, the JD-U had contested 25 seats and the BJP 15, while in 2004, the JD-U contested 26 seats and the BJP 14.
Sensing that the BJP will seek to play a bigger role in the alliance this time, its allies had repeatedly demanded a decision on seat-sharing for the 2019 Lok Sabha elections.