The pandemic is set to become even more challenging, with migrant workers returning home, relaxations in lockdown rules, and the approaching monsoon.
However, states are looking at community participation to ramp up testing and home treatment of patients.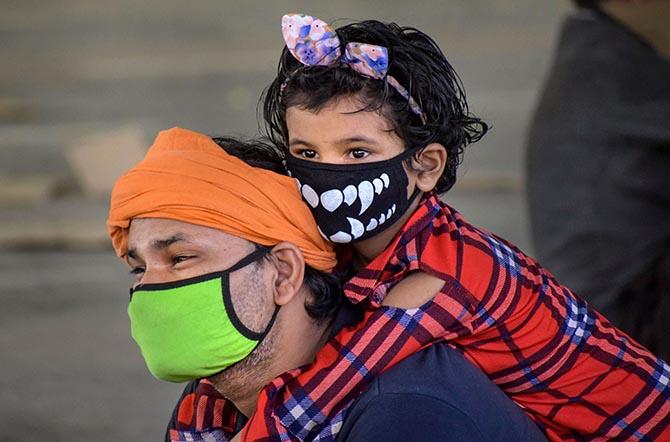 India's response to the public health emergency created by the coronavirus pandemic is set to become even more challenging, with migrant workers returning home, relaxations in lockdown rules, and the approaching monsoon.
However, government sources and health experts indicate that now the focus could shift to developing a strategy to understand the spread of the virus among the population and target the testing accordingly.
As of mid-May, India had conducting 1.41 tests per 1,000 people. This is similar to Uganda's response (1.45 tests per thousand), but is way behind the United Kingdom, with 23.48 tests per 1,000, or Italy, with 46.43 tests per 1,000.
While ramping up testing is important, public health experts feel that the community should be involved in screening people for symptoms. They also feel that if the symptoms are not serious, patients can be treated at home. In fact, most state governments seem to be acting on that advice now.
"The idea is to have people from the community -- gurudwaras, or aanganwadi workers -- visit neighbourhood homes to screen people for symptoms. Also, the government needs to assure people that if the symptoms are not severe, they can remain at home. This way people would be more forthcoming about sharing their cold and flu symptoms," says K Srinath Reddy, president of the Public Health Foundation of India, who is advising several states on strategies to mitigate Covid-19.
Agrees Angela Chaudhuri, member of an initiative called Covid Action Collab: "Stigma against people with Covid or suspected Covid is a huge issue that will prevent people from seeking care. This has
to be countered immediately and aggressively not just at the community level, but at the level of the policemen outside the containment zone, the health care level, the political messaging level and at the policy level."
An official in Delhi, too, feels that since "most patients are asymptomatic, they can be treated at home. We have to learn to live with this virus and awareness campaigns are being planned to do away with the stigma".
While Maharashtra, which is one of the worst affected states, is scrambling to create infrastructure to house patients, the ones with mild symptoms are being kept in home isolation. In Gujarat, too, several positive cases are now recovering at home. The state has also roped in NGOs to help ease the pressure on government infrastructure for screening people.
The issue of migrant workers returning to their home states poses a challenge. And here different states are using different strategies to tackle the problem. For example, Uttar Pradesh has deployed rural Accredited Social Health Activist (ASHA) workers for surveying the migrants. So far, 262,000 labourers have been surveyed by them, of which 305 were found to be symptomatic and their samples taken for testing.
States like Karnataka, on the other hand, are insisting that all returnees undergo on institutional quarantine for 14 days. In fact, several passengers in a Bengaluru-bound train chose to return to Delhi last week after they refused to be quarantined in government isolation wards.
When it comes to testing, the strategies adopted by states have varied widely. While Kerala adopted an aggressive contact tracing policy right from the outset and achieved success, Tamil Nadu was following a more "judicious testing" strategy in the early days.
Some states have not ramped up testing even now. A week ago, Telangana was testing only 100 samples on a given day. In contrast, neighbouring Andhra Pradesh has been conducting about 10,000 tests per
day. Telangana has stopped divulging number of tests being done in its daily health department bulletin. Health Minister Etela Rajender recently criticised those who were pitching for more tests. In fact, even front-line health workers in Telangana are not being subjected to randomised tests.
Others are aggressively ramping up testing, especially in view of the returning workers. Uttar Pradesh is trying to double its daily testing to 10,000, including both targeted and random sample collection, in the coming days. The state is expected to see the return of an estimated 1.5 million people.
Besides, more than 70,000 health department surveillance teams in Uttar Pradesh have surveyed over 30 million people, or about 15 per cent of the state's population. King George's Medical University vice-chancellor MLB Bhatt says that almost 80 per cent of the Covid-19 cases in the state are asymptomatic and do not need hospitalisation.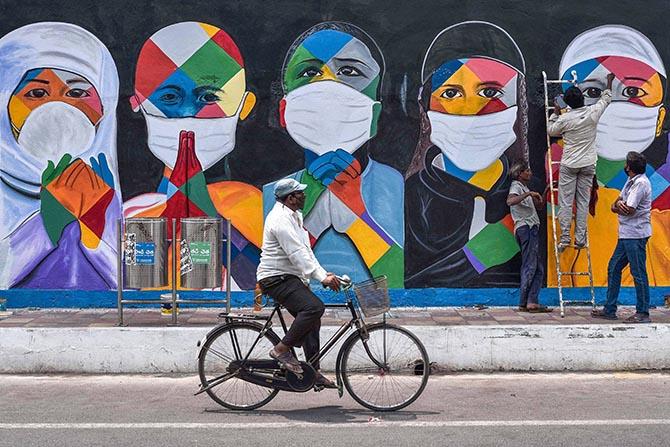 Odisha, too, has scaled up testing from 2,000 samples per day to 5,000 per day. A huge number of migrant workers have returned to the state in the last few days.
"Ideally, we would like to test every migrant worker who returns to Odisha. But we don't have ample testing facilities and, hence, our priority is to test symptomatic cases. We have scaled up sampling and by the middle of June, we expect to touch 15,000 test samples per day," says Nikunja Bihari Dhal, outgoing principal secretary (health and family welfare), Odisha.
West Bengal, widely lambasted for not testing enough initially, has increased its testing rate by nearly 80 per cent in the last few days. From testing 2,793 samples on April 13, it has gone to testing 5,010 samples on May 13.
The Union health ministry has also come out with guidelines on pool-testing, wherein a cohort of 25 people are identified and tested by the RT-PCR method. Individual tests will be done only if the pool tests positive. Reddy says that the cohort size may need to be fine-tuned, depending on the risk exposure of the group that is being tested.
Karnataka is one state that is already doing pool-testing to screen a higher number of people in a shorter time. The state's expert committee will soon decide on whether to use this method of testing for the returnees.
"This method of cluster testing will help cover a large number of people rapidly," says Dr Satyanarayana Mysore, head of department at interventional pulmonology and sleep medicine at Manipal Hospitals in Bengaluru.
Meanwhile, the central government is also carrying out some random surveillance testing. This includes the population-based sero-survey planned at the district level by the health ministry to monitor the trend in infection spread. Furthermore, states are gearing up for sentinel surveillance to detect community transmission of Covid-19.
In this method, the population is divided into seven groups based on potential risk exposure and samples are tested accordingly. For example, a 39-year-old bakery owner in Kerala has been detected as Covid- positive through sentinel surveillance.
According to a senior official at the National Institute of Virology, Alappuzha, Kerala relies on the RT-PCR tests, since alternative testing technologies are still at an experimental stage. The state has a low infection rate -- around 2 per cent compared to the national average of 4 per cent.
West Bengal, too, has opted for Sentinel Survey. Every week 200 samples will be collected from each district and people will be divided into high-risk and low-risk groups.
Experts point out India has allowed more testing methods for antibody testing (ELISA, chemiluminescence), apart from CSIR-Tata Feluda tests (which will use paper strip chemistry to detect the viral signal). According to some estimates, if we touch 2.2 million positive patients by June-end, India will need about 5.5 million test kits. Local manufacturing is being ramped up to meet this demand. Hasmukh Rawal of Pune's MyLab, which came up with the indigenous RT-PCR kit, says that they have ramped up capacity to make 200,000 RT-PCR kits daily.
Reddy feels that anti-body tests, even with a fair amount of false negatives, cannot be ruled out as part of India's testing strategy. These tests would give a comparative idea about how different districts are placed, and where testing needs to be focussed.
There is also a move to let municipal bodies allow teams of molecular biologists to collect sewage and test for the presence of the Covid-19 RNA. "Sewage testing has been a viable early detection system for polio, and for Covid as well in many other countries. In crowded urban areas, sewage testing could be an alternative to testing individuals," says Chaudhuri of Covid Action Collab.
-- With inputs from Jayajit Dash, Vinay Umarji, Virendra Singh Rawat, Samreen Ahmad, Gireesh Babu, Dasarath Reddy, Avishek Rakshit and Sohini Das