The constituency comprises nearly 60,000 Kurubas -- a community which the CM belongs to -- and a Muslim population of at least 20,000. With their unified backing, there is no overt danger to the CM, reports Aditi Phadnis.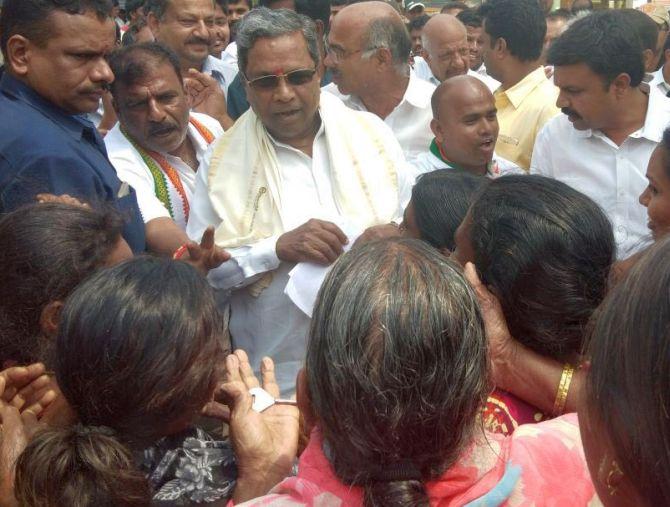 When Chief Minister Siddaramaiah announced he was contesting from two constituencies, Chamundeshwari and Badami, his friends asked him why.
He explained somewhat elliptically: "We are all chief ministers. Of all of us, I consider Jayalalithaa the strongest CM that India has ever had -- she never had to explain her decisions, never had to answer to anyone. Here, if I put a foot wrong, my esteemed colleagues will go rushing to the (party) high command. Who knows what might happen after that?"
His friends knew who the reference was to -- D K Shivakumar, the Vokkaliga leader with a direct line to the Congress in Delhi. Why the CM chose Badami also became clear -- the constituency has only a small Vokkaliga population, and a large Muslim and Kuruba (shepherd community) presence. The CM is also a Kuruba.
The day Siddaramaiah filed his nomination, the procession extended over one kilometre. When he had reached halfway, the CM took off his traditional headgear and put on a skull cap.
"Why would he do that, if not to tell the Muslim constituency he was there to take care of them?" asks Andanayya, who calls himself a proud Veerashaiva and detests the Congress government's efforts to divide them and the Lingayats by offering the latter the status of a minority.
Speaking from the dark recesses of his small store, selling electrical appliances in the main Badami market where he is considered a local leader, Andanayya hopes the Bharatiya Janata Party wins from the constituency. Adding, however, that with the unified backing of Muslims and Kurubas, there is no overt danger to the CM.
Badami is not used to attention -- except from tourists and 'fancy sari ladies', he says somewhat contemptuously. Badami is a major centre for the famous Ilkal saris and home to the most incredible stone carvings on temples, dating back to the Chalukya era.
"The chief minister referred to the founder of modern Karnataka, Visvesvarayya, in a demeaning fashion. He is equally dismissive about leaders of other castes. A chief minister is the leader of all Karnataka -- he should be someone who respects all castes, not just his own" says Srinivas Javali, a cloth merchant with a shop neighbouring Andanayya's which stocks Ilkal saris and sees a stream of customers.
With a Muslim population of at least 20,000 and a Kuruba population of nearly 60,000, the CM has an advantage. But, equally popular is the BJP candidate and mining baron, B Sriramulu, who represents Ballari as MP.
"What can we say about him? There is no shortage of money. We can feel it already," says Mallikarjun, the owner of a small Lingayat 'khanawali' (restaurant) that serves the famous jowar roti as its signature dish.
Mallikarjun does not hide his irritation. "All these people are outsiders. When we need them, they will not be there for us. Already, people are coming from Bengaluru and telling us, 'stand aside, we know better'. What is the use of such people?"
The 'local' is the Janata Dal-Secular candidate, Hanumant Mavinamarad, who was born and grew up in Badami. The JD-S is leaving no stone unturned in campaigning for him and H D Deve Gowda himself is in Badami, campaigning for his candidate.
"Locals are unaffected by glamour and money. They are simple people; all they want is development and water," says Mavinamarad, amid hectic arrangements for the public meeting that Deve Gowda was to address.
In a reminder that the water dispute with Goa is putting livelihoods in serious danger here, a set of farmers are on a serial strike in a small shelter just outside the city. Their green flag flutters valiantly in the hot breeze as they sit with posters describing the betrayal of farmers in north Karnataka. It is 41 degree Celsius and throats are parched.
The only sign of water amid vast landscapes of shaved crops and newly turned black soil is a small tank which appears to be the source of water for villages around.
Andanayya says the contest will be close. Not only in Badami but also in Bengaluru.
Srinivas Javali says: "Siddaramaiah would have been the best CM -- if he hadn't become so arrogant."
What about B S Yeddyurappa? He closes his eyes, as if in pain.