Union Home Minister Rajnath Singh has set a two-year deadline to seal the border.
Supratim Dey reports from Guwahati.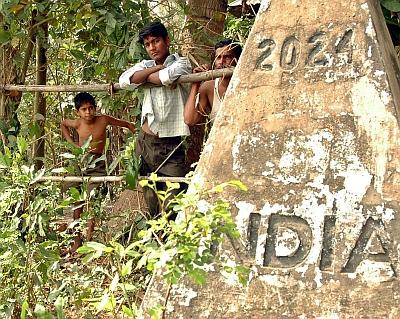 Checking infiltration from Bangladesh was the main poll promise of the Bharatiya Janata Party in the 2016 Assam assembly election.
Soon after assuming charge as chief minister, Sarbananda Sonowal declared the Bangladesh border would be sealed in two years.
Influx of illegal Bangladeshi immigrants is an emotive issue in the state.
Besides the fear of loss of identity, pressure on land and resources has fuelled anti-Bangladeshi sentiments in Assam. The Assamese want the influx ended once and for all.
The Assam agitation of the 1980s, led by the All Assam Students Union, was centred on the issue. The agitation culminated with the signing of the Assam Accord, whereby the Centre, among other promises, agreed to seal the border. The sealing is still incomplete.
Assam shares 263 km of international boundary with Bangladesh. Securing the riverine boundary, which is approximately 100 km, has become an uphill task for the BSF.
On June 4, Sonowal held a meeting with BSF Director General K K Sharma where he asked for expeditious fencing and use of smart technological solutions like laser walls and surveillance gadgets.
Union Home Minister Rajnath Singh has set a two-year deadline to seal the border. According to the ministry, a 223 km fence has been constructed.
The National Register of Citizens of 1952 is being updated in Assam to detect illegal foreigners. The process was started by the previous Congress government under supervision of the Supreme Court and is nearing its end.
State government figures do not indicate large-scale influx of Bangladeshi immigrants into Assam. According to government figures, around 38,000 people were declared illegal immigrants since 1985 and 2,442 were expelled. Most of those detected went missing soon after.
Census figures, however, show a steady rise in the Muslim population of Assam. With a 34 per cent Muslim population, it is the second largest Muslim-populated state after Jammu and Kashmir.