With parts of the country reeling under intense heatwave conditions, the India Meteorological Department (IMD) has predicted thunderstorms and dust storms from Monday hoping to bring some respite to the people.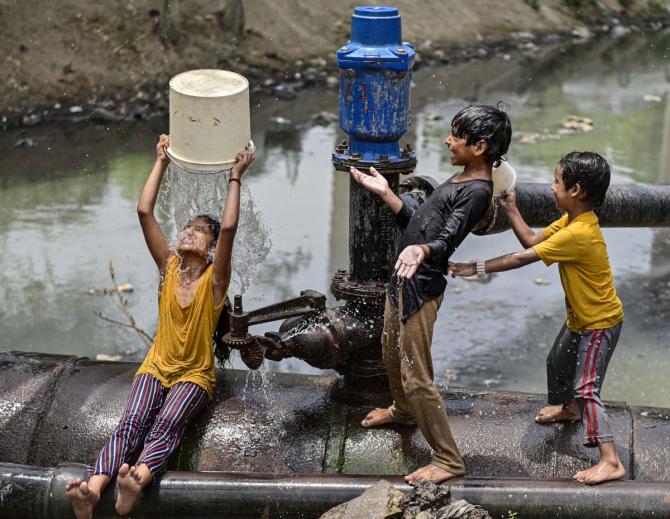 Western disturbances are near Pakistan-Afghanistan and are moving towards Delhi and thunderstorms or dust storms are likely to be experienced in northwest India, senior scientist at IMD RK Jenamani told ANI.
"We are giving thunderstorms and dust storms warning for the whole of northwest India covering Rajasthan, Punjab, Haryana, Delhi, and West Uttar Pradesh. Cloudy weather or dust rising winds will continue till May 5. From May 1 to 5, the temperature will be normal. No heatwave will be there," he said.
However, the monsoon will commence by May 15 as per the latest predictions by the weather office.
Meanwhile, the heatwave may abate in northwest India from Monday and the fresh spell of heatwave will not occur before May 7.
"The heatwave can occur after May 7, but there is no specific date prediction as yet. It depends on how the temperatures increase," he said.
"Heatwave is abating over many places today. From tomorrow, there will be no heatwave. As per our predictions, on May 2 the temperature will be normal or just above normal," he said.
As per the latest data, he said, the temperature has been down by 5 to 6 degrees Celsius at a few locations.
The temperature dropped from 40 to 45 degrees Celsius to 39 to 40 degrees Celsius over a day at places including West Bengal, Odisha, Jharkhand, Bihar, North Uttar Pradesh, Delhi, North Haryana, and Punjab among other places.
"Heatwave will not be there today over many areas of eastern India and also over North Uttar Pradesh, Delhi, North Punjab and North Haryana," the senior IMD scientist said.
However, the heatwave conditions will prevail over West Rajasthan and Vidarbha on Sunday with the maximum temperature reaching 45 degrees Celsius, he said adding that an orange alert has been issued.
Parts of the country have been reeling under intense heatwaves for the past few weeks with temperatures soaring high with average maximum temperatures reaching 35.9 and 37.78 degrees Celsius in northwest and central India respectively.
Both the regions of the country experienced the hottest April in 122 years.
People are wearing scarves and carrying water bottles amid rising temperatures while some are on the lookout for roadside ice cream stalls and lemonade vendors.
"The heat is unbearable here. Sunscreen is a must. I carry a cold water bottle to keep myself hydrated," said Sakshi, a resident of Bengaluru, touring Delhi.
Another woman, a resident of Gurugram, Srishti said, "Today, the weather was fine so I decided to come out. Otherwise, I prefer to stay indoors."
A tourist from Gujarat, "The heatwave is a little too much here."