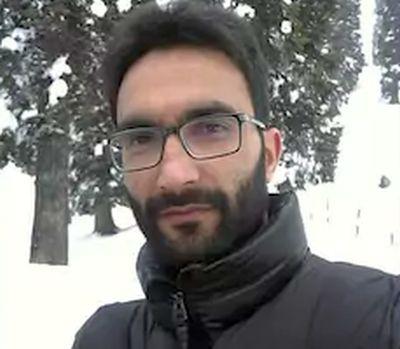 He was sorry if he had hurt his parents, the son told his father on the phone.
It was the first call of the day that Fayaz Ahmed Bhat received from his sociologist son -- and the last ever.
Bhat was still bleary-eyed at his residence in Chundana in Ganderbal when his mobile phone rang early on Sunday morning, he told the police later.
It was his son Mohammed Rafi Bhat. calling to bid farewell.
"I am sorry if I have hurt you," Rafi told his father before he was gunned down in an encounter with security forces at Shopian in South Kashmir on Sunday.
Rafi had left home on Friday last week and joined the Hizbul Mujahideen terror group, the police said.
The Jammu and Kashmir police, which was monitoring all calls from the encounter site, quickly got cracking and sent a police team to Bhat asking him to convince his son to surrender.
The father, accompanied by his mother, sister and wife, started their journey from their home to the encounter site. But barely after reaching Bota Kadal, 14 km from their home, they heard the news about Rafi's end.
The family returned home to prepare for his funeral.
The senior Bhat told the police about his last conversation with his son and indicated he was convinced Rafi would not be there to hear their pleas, asking him to surrender.
"I am sorry if I have hurt you and this is my last call as I am going to meet Allah," Rafi told his father, who recounted the conversation to the police.
Rafi Bhat, a 33-year-old professor on contract with the Kashmir University's Sociology department, had left the varsity premises on Friday and had been missing since then.
Reports had suggested he had joined the terror group but his father had repeatedly told the police Rafi would not pick up arms.
Fayaz Ahmed Bhat, who was an overground worker for a terror outfit in the early 1990s, had been keeping a strict watch on his son ever since he had attempted to move to Pakistan-occupied-Kashmir at age of 18 but was caught by the police and handed over to his parents.
Rafi, a PhD in his discipline, was among the five terrorists killed by security personnel at the Budgam area of Shopian.
Two of his first cousins were also involved in militancy and had died in the early 1990s.