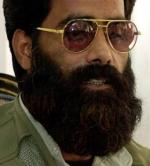 Banned terror group Harkat-ul Jehad-al Islami on Saturday confirmed the death of its commander Ilyas Kashmiri in a United States drone strike, Pakistani TV channels reported.

HuJI spokesperson Abu Hanzala issued a statement in which it said it would take revenge from the US for Kashmiri's death, Dawn news and other channels reported. The channels said they had received a fax message from HuJI confirming the 47-year-old Kashmiri's death.

The Al Qaeda-linked terrorist was a key suspect in the 2008 Mumbai terror attacks.
BBC Urdu had earlier reported that Kashmiri was among nine militants killed in a US drone strike in the South Waziristan tribal region.

The US drones targeted a location 20 km from Wana, one of the main towns in South Waziristan late last night
.
A drone fired two missiles at the spot and two more missiles were fired after a short interval, local residents were quoted as saying by BBC Urdu.

Kashmiri, headed the Harkatul Jihad al-Islami and Al Qaeda's 313 Brigade. He is said to have masterminded the 26/11 Mumbai attacks, the Mehran naval base stirke and an attack on the American consulate in Karachi in 2006.

The US recently gave Pakistan time till July the month when NATO and allied forces will begin withdrawing from Afghanistan to launch a military offensive in North Waziristan tribal region and to capture five most wanted al- Qaeda and Taliban leaders, including Kashmiri. The other terrorists on the US list are Ayman al-Zawahiri, Mullah Omar, Sirajuddin Haqqani and Atia Abdur Rehman.