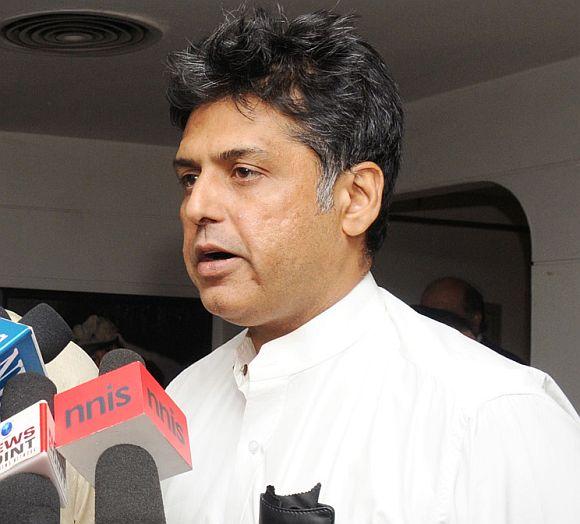 The Congress on Wednesday said it will not demand the resignation of Narendra Modi over the snooping row claiming that if the Gujarat chief minister really wanted to quit he would have done that after the 2002 Godhra riot.
"You people are asking me such question that you are pouring water off a duck's back. We should ask resignation from that person who has got some morality, shame and etiquette," Congress spokesman Manish Tewari told mediapersons in Goa, where he has come to inaugurate 44th edition of International Film Festival of India.
Tewari was replying to a question by reporters on whether his party would seek Modi's resignation over the snooping row. "If he had to submit his resignation he would have given it after the 2002 (Godhra) massacre. So, we should ask for resignation from that person who has a ray of morality in him," the Union Information and Broadcasting Minister said.
Two investigative news portals, Cobrapost and Gulail, had claimed on November 15 that Modi's aide Amit Shah had ordered illegal surveillance of the woman at the behest of one "saheb".
They had released taped conversation between Shah and Indian Police Service officer G L Singhal to support their claim but said its authenticity could not be confirmed.
Tewari said the party respects the feeling of "that respected woman and her father."
"Nobody will want that their rights should be abused. No state or the government has the right to illegally abuse the human rights," he said. The spokesman said that providing security and spying illegally are two different things.
"In this case if the telephones are tapped illegally, then it is completely wrong according to the Indian laws," Tewari said.
"It is a criminal offence. If the government is involved in all these offences then it is a constitutional right to take action against them," he added.
This is a unique irony. Before giving us advice they should introspect themselves. They have been making statements against us for last one month violating the election campaign ethics," Tewari said.
When the Congress retaliates, they are not able to take that criticism, he pointed out.
"They get pinched when a statement comes from our side. When the shoe is on other foot then unfortunately it bites," he said.
"The most important thing is that the kind of campaigning they are doing is highly condemnable," he said responding to a volley of questions on the verbal duel between Congress and the BJP.
To a media query on Modi's repeated references to Rahul Gandhi as "shahzada" (prince), Tewari said it's an irony that the BJP can call him 'Shahzada' every time, but when Congress refers to him as "Sahabzada", they object to it.
"When you call him 'Shahzada', you are 'raseela' (coulourful in this context) and if we call (him) 'Sahabzada' then 'hamara character dheela' (our character is loose)," he quipped.
When asked about Congress leader Digvijaya Singh's reported comments about Modi calling him "chor", Tewari said that "if the BJP has anything to clarify on that they have the right to ask him (Digvijaya)."