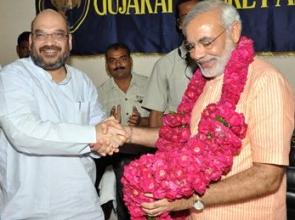 Launching a fresh attack on the Bharatiya Janata Party over the Gujarat snooping row, Congress leader Manish Tewari on Monday asked why no private security officer was provided if the woman in question was being protected at her father's behest.
"The BJP claims lady was protected at father's behest. Was threat assessed? Why not PSOs provided?" Tewari, who is also the Union Information and Broadcasting Minister, posted on Twitter.
Two investigative portals, Cobrapost and Gulail, had claimed on November 15 that Amit Shah, the former home minister of Gujarat and Gujarat Chief Minister Narendra Modi's close aide, had ordered illegal surveillance of a woman at the behest of one "saheb".
They had released a taped conversation between Shah and an Indian Police Service officer to back up their claim, adding that its authenticity could not be confirmed. Tewari further asked, "Why court ignominy of being the stalking 'Sahebzada'.
Congress women leaders had on Sunday said that Modi "does not deserve" to be BJP's prime ministerial candidate if the Cobrapost claim on illegal spying on a woman architect in Gujarat in 2009 are found to be correct and demanded an inquiry into the issue by a Supreme Court judge.
Union ministers Girija Vyas and Jayanti Natrajan, former Uttar Pradesh Congress Committee chief Rita Bahuguna Joshi and Mahila Congress chief Shobha Oza had said that the honour and dignity of every woman in India was at stake in the backdrop of "serious issue in which a young woman was stalked, followed, spied upon on during her every waking act by no less than an entire anti-terror squad of the Gujarat police."
The women leaders had wondered, "Does this illegal snooping not raise moral and ethical issues as to capability, mannerism and style of governance of Modi? "Can a person with such a flagrant disregard for law, Constitution and liberty of people be trusted to run any public responsibility and protect the rights of citizens," they had asked.
BJP chief Rajnath Singh has already ruled out a rethink on BJP's PM candidate.

Image: Gujarat CM Narendra Modi with his aide Amit Shah