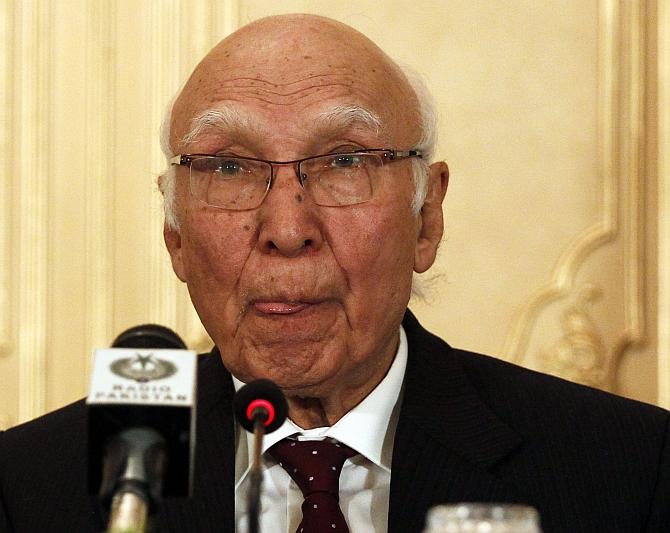 Pakistan on Saturday said that the International Court of Justice has not given any order regarding consular access for Kulbhushan Jadhav who has been sentenced to death according to the laws of the country.
"The ICJ has only asked Pakistan to keep a stay on Jadhav's execution until it arrives at a decision," Pakistan PM's Adviser on Foreign Affairs Sartaj Aziz said.
He also ruled out any compromise on the issue of Jadhav and said "when there will be matter of our national interest and security, then there will be no compromise."
His colleague and Interior Minister Chaudhary Nisar Ali Khan said the case would be taken to its "logical conclusion in accordance with Pakistan's law and constitution."
Khan said certain elements are on the payroll of "our enemies" and receiving funds from them to stoke anarchy and unrest in the country.
Jadhav, 46, was sentenced to death by a Pakistani military court on charges of "involvement in espionage and sabotage activities" against the country.
The ICJ on May 18 stayed the execution of Jadhav.
Addressing a press conference Islamabad, Aziz said that when it comes to cases involving the death penalty, the international court has always given a stay order.
He said the ICJ has not decided on consular access and has only intimated that the matter will come under discussion.
"The ICJ has not issued any order with regard to consular access," he added.
Aziz also claimed that Jadhav was not an ordinary Indian, and said he was "an officer in the Indian Navy who has also admitted to carrying out espionage activities in Pakistan."
Jadhav was sentenced according to the laws of Pakistan after he admitted to entering the country on fake passport and involvement in terror activities, the top diplomat added.
"We will try for early hearing of this case in the ICJ and will present our stance with full preparation," he said.
He said it was wrong to say that Pakistan has been defeated in ICJ and asserted that Pakistan has strong position regarding merit and jurisdiction of the case.
Aziz said the Kashmir issue would not be taken to ICJ as it is being dealt at the higher forum of UN Security Council.
"We are not taking Kashmir issue to ICJ. I never said this as the forum for Kashmir is UN Security Council," he said.
He said Pakistan wants amicable resolution of the Kashmir issue in line with UN resolutions and Islamabad will "continue its political, moral and diplomatic support to Kashmiri people in their struggle for right to self-determination."
Talking about the visit of Indian tycoon Sajjan Jindal, Aziz said that it was a private visit and there was no need for foreign office to issue a statement on the issue. He also rejected any link between Jindal's visit and the Jadhav case.
Responding to a question as to why an ad-hoc judge was not nominated by Pakistan, he said the government could not appoint one within a short notice of five days.
He also rejected question about the Britain-based lawyer Khawar Qureshi and said he was appointed to plead the case after consultation with all stakeholders.
The foreign office was criticised for its "poor handling" of the case and for its choice of Qureshi as counsel.
Aziz, however, said that Pakistan will further strengthen its legal team and that it will go forward into the case with full preparation. "We will go with a strong team in the next hearing," he added.
Attorney General Ashtar Ausaf Ali will plead Pakistan's case at the ICJ against Jadhav.
Their comments came after ICJ stayed Jadhav's execution and also endorsed Indian request for consular access to him.
The Pakistan government has come under a lot of criticism for its "mishandling" of the case at ICJ.
Jadhav's case is the latest flash-point in the tensions between Pakistan and India. The two countries last faced off at the ICJ 18 years ago when Islamabad sought its intervention over the shooting down of its naval aircraft.