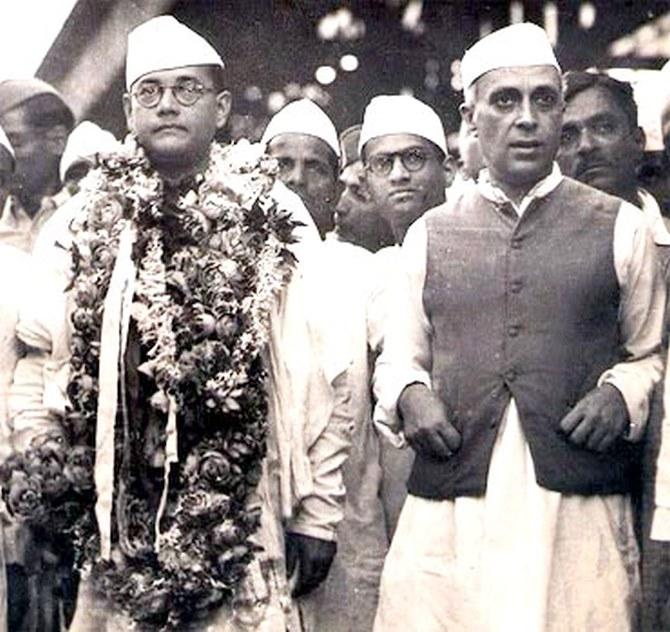 Former Prime Minister Jawaharlal Nehru with Netaji Subhas Chandra Bose in this undated photograph.
Intelligence Bureau kept relatives of Subhas Chandra Bose under close surveillance for two decades, most of which was during Jawaharlal Nehru's tenure as prime minister, according to archival material, which on Friday set off a political controversy.
The Intelligence Bureau files declassified recently said Bose's close relatives, including his two nephews, Sisir Kumar Bose and Amiya Nath Bose, sons of his brother Sarat Chandra Bose, were spied upon for 20 years between 1948 and 1968. Nehru was Prime Minister for 16 of these 20 years.
The files, now with the National Archives, said the Bose family homes at 1, Woodburn Park and 38/2 Elgin Road, were kept under surveillance.
The IB sleuths intercepted and copied letters written by the Bose family and even trailed them on foreign tours.
Bose's family reacted to reports with "shock" and said it was a "poor reflection" on the quality of democracy at that time.
"Yes, it is a poor reflection on the quality of India's democracy in the first two decades that there was such invasion of privacy of freedom fighters. It is not just a family matter. The most disgraceful aspect of this surveillance is that private letters between my father and his aunt (Netaji's wife) were being opened and read and copied. It's a matter of great disrespect to the freedom struggle and freedom fighters," Sugata Bose, his grand nephew and TMC MP, who read the files and copied the relevant material, said.
"It's shocking to the family members. Now we know that under instructions from Pandit Nehru the government kept surveillance," said Chandra Kumar Bose, another grand nephew.
Anuj Dhar, the author of 'India's Biggest Cover-up' had stumbled upon the files at the National Archives while researching on Bose, one of the foremost leaders of the freedom movement.
Bose had quit Congress before independence over differences with Nehru and Mahatma Gandhi and launched an organised military resistance against the British after raising the Indian National Army.