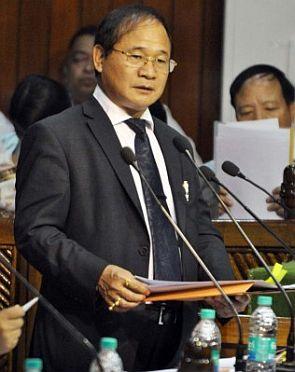 A verbal spat between Arunachal Pradesh Governor J P Rajkhowa and former chief minister Nabam Tuki shows no signs of ending, with the latter on Friday revealing that the former has been repeatedly violating all constitutional and protocol norms since assuming office on June 1, 2015.

Even as the political situation in Arunachal Pradesh remains infractious and the matter has been placed before the Supreme Court for a possible ruling on February 1, an upset and angry Tuki recalled the abusive treatment meted out to him when he met Rajkhowa at the Raj Bhawan in Itanagar.

The incident took place when then chief minister Tuki, along with his Cabinet ministers, went to meet the governor at the Raj Bhawan.

The chief minister, as per the Order of Precedence firmed up by the union home ministry, is the elected head of government in each of 29 states and two Union Territories (Delhi and Puducherry).

According to the Constitution of India, the governor is a state's de jure head, but the de facto executive authority rests with the chief minister, and therefore, he is accorded specific privileges in tune with the office he occupies. This includes rules related to security and interaction with other official representatives.

In an interview, Tuki claimed that he was 'threatened, frisked, abused and video-graphed before and during the meeting'.

Tuki further stated that the videographing of his arrival and his meetings were made without his knowledge, and added that the video released in the public domain before both sides approached the court, was an edited version.

The former CM maintained that the part where he was abused and violated in terms of established protocol had been edited.

"We had sought an appointment, and they had planned for it. There were security checks and there were cameras in the room where we held meeting. We tried to hold discussions with them in a normal manner. They tried to threaten me, took my name and provoked me. They even abused me. There was an argument, and the video footage shows only one side of the entire episode. The footage has been edited, some part of it has been deleted," Tuki said.

Tuki's broadside came a couple of days after Governor Rajkhowa had claimed in his report to President Pranab Mukherjee that Tuki and his council of ministers had threatened him and were practicing a communal brand of politics and administration.
Rajkhowa also claimed that he was abused, threatened and nearly assaulted by some ministers. He had said in his report to the Centre that at one point, his family and he feared for their lives, making it almost impossible to discharge his official duties.
The Supreme Court has described the situation in Arunachal Pradesh as 'too serious a matter' to be ignored or treated casually. A five-judge bench of the apex court on Wednesday sought the report submitted to the Centre by Rajkhowa recommending President's rule in the state.
On Friday, the Centre filed a 316-page affidavit, along with annexures, in the SC to justify imposition of President's rule in Arunachal Pradesh.