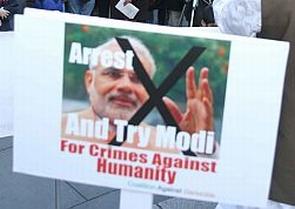 Nishrin Jafri Hussain, the daughter of former Congress Member of Parliament Ehsan Jafri, who was brutally killed in the 2002 Gujarat riots, has vowed to continue her fight for justice.
Speaking at an event organised by the London School of Economics Gender Institute in London on Monday, Nishrin relived the attacks on Gulbarg Society in Ahmedabad.
"I still have hope that we will get justice. No one came to help us on that day. My mother is fighting for justice, she is not going to give up," said Hussain, whose mother Zakia had filed a petition against Gujarat Chief Minister Narendra Modi, accusing him of complicity in the riots.
"My father had been against the ghettoisation of Muslims and committed to living in a mixed Hindu and Muslim area even after the riots of 1969," she recalled.
As part of the 'Gender and the Hindu Right in India' discussion, anthropologist and human rights activist Angana Chatterji presented her work documenting the experiences of sexual violence in Odisha.
Dalit feminist activist and author Meena Kandasamy spoke about the language and discourse of Hindutva being misused by fanatical groups in Tamil Nadu.
The meeting, attended largely by United Kingdom-based students, had been organised jointly by the LSE Gender Institute, South Asia Solidarity Group and the Freedom Without Fear Platform.
"What we are currently seeing in India is the rise of fascism in which horrific and organised sexual violence against women from minority communities is an integral part.
This event is to draw attention to disturbing developments for women and also question the British government and British companies' relationship with Narendra Modi and the Hindu right in India," said Dr Kalpana Wilson of the LSE Gender Institute.
Image: A protest against Gujarat Chief Minister Narendra Modi