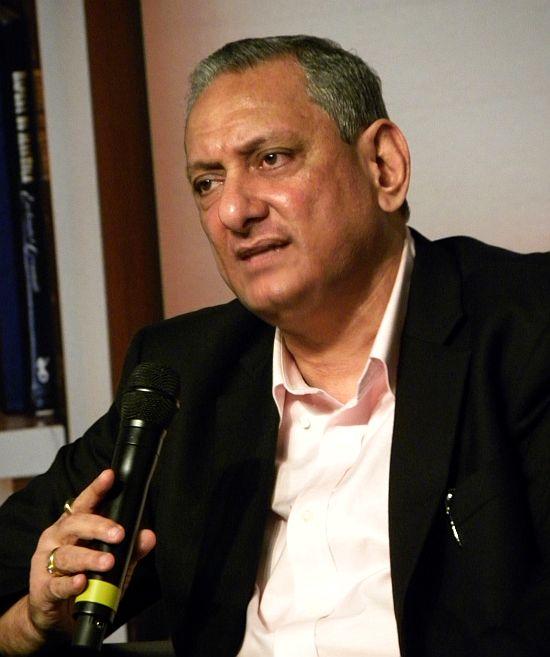 Retired supercop Rakesh Maria on the challenges of fighting crime.
Rediff.com's A Ganesh Nadar listens in.
Rakesh Maria, Mumbai's supercop, regaled the Rotary Club of Mumbai at the iconic Taj Mahal Hotel on Tuesday, July 19.
The topic was 'Crime and the City,' and who better than Mumbai's former police commissioner to talk about it?
After all, Maria investigated the March 12, 1993 serial blasts case as well as the 26/11 terror attacks among numerous other cases in his 26-year illustrious career in the Indian Police Service.
"It is the dream of every Indian Police Service officer to become the commissioner of Mumbai and I was privileged to be one. We always had to deal with the underworld and terror attacks in Mumbai, but now there was a new aspect which was not there earlier.
The protection of women -- earlier Mumbai was considered to be a safe city for women even if they caught the last local (suburban train) from Churchgate. This was not so now. Cases of rape were being reported and the cases are on the increase.
Another reason for this increase is that earlier women were not coming forward to register complaints because of the stigma attached to a rape victim. Now we have made it easier.
We have a helpline that they can call and a woman officer goes to the victim's house, records her statement and files the FIR (First Information Report) at the police station and action is taken. The victim does not have to come to the police station.
I can make Dawood Ibrahim confess in five minutes, but I really don't know how to deal with economic offenders.
They rob people of thousands of crores and get bail easily. Proving the crime is also not easy, they say it is a business loss and not a scam.
Another thing that never fails to surprise me is the ease with which people are fooled. All you have to do is promise them higher returns and they will give you their hard earned money.
We are lucky in Mumbai that we have not had an attack of a lone wolf or a suicide bomber. There is no preventive measure for this. We can catch them only after they have caused damage and severe damage at that.
Corruption at the higher levels among cops is very less and it is the lower rungs that are easily corruptible. This can be improved with better pay and better standards of living.
They come to work from far flung suburbs as they cannot afford the rent in the city. Have you seen their quarters? They are in a deplorable condition. They live in leaking chawls where most of the work is done in the corridors and not within the minuscule house.
Technology has advanced on a fast track. We now have to deal with cyber crime and we have a separate cell for it.
There was a visible communal divide among the Mumbai police during the riots in 1993. It was among the lower ranks and not among officers.
Since then we have been holding special sessions with them regularly and we have drilled it into them that to be good at your job you have to be beyond religion and that should not make any difference to the way you handle a suspect or complainant."