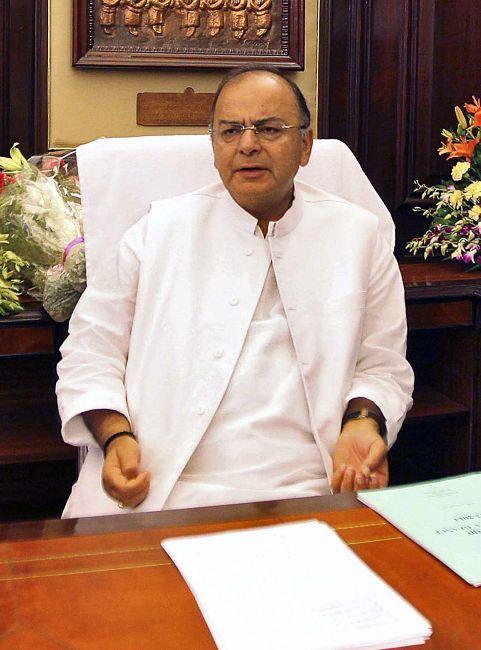 Rubbishing Congress' claim of having blacklisted AgustaWestland, Finance Minister Arun Jaitley on Wednesday said he had as defence minister in June 2014 put the transaction to buy 12 helicopters from the Italian firm on hold and in July barred any future contract with it.
The National Democratic Alliance government, he said, has no political motive except to identify the beneficiaries of the kickbacks received in award of the helicopter contract.
"Today we are at a stage that we have reason to suspect that bribes have been taken. And therefore that is a launching pad for a proper investigation.... Today it is only reason to suspect that somebody has taken bribe," Jaitley said in Frankfurt.
Maintaining that the government has no political intention in pursuing the case except that the beneficiaries should be identified, he said "The identity of the beneficiaries cannot be camouflaged behind a political controversy".
Noting that defence procurement decisions were influenced by "extraneous factors", he said bribe givers have been identified and convicted in Italy, and now the beneficiaries of the bribes in India have to be identified.
"So, obviously this is a ground for a serious investigation," he said.
Attacking the Congress, Jaitley said they "invented" an argument that the United Progressive Alliance had blacklisted Agusta and the NDA had removed it from the black list.
"The UPA never blacklisted Agusta. On June 9, 2014, I had put the whole transaction on hold and then a formal order was issued on July 3 after taking Attorney General's advice that no new contracts will be entered into till the matter is investigated," he said.
Jaitley had held additional charge of Ministry of Defence from May 2014 till early November 2014.
He said the July 3 order of the defence ministry still holds.
"If they (Congress) are rubbishing the allegations (of bribe being paid), then why is that (AK) Antony claims that he had blacklisted Agusta? Why should the Congress party feel that the cap fits them?
"In fact, if they have no connection they should say there should be a proper investigation and the truth must be found out. When the truth is found out and it is somebody else it will vindicate them also," he said.
Asked if the AgustaWestland case may also meet the fate of Bofors scandal, he said: "I don't know. It will all depend on kind of evidence that come".
Jaitley said there were inherent challenges in the investigation even for the CBI as the crime is being investigated in India but evidence is located outside the country.
"Therefore unless the outside jurisdictions cooperate with us through a process of Letters of Rogatory.... the investigation only then moves forward. The CBI has said they sent requests," he said, adding some countries including Italy have responded while some are yet to respond.
He said it was incumbent on all including decision makers, defence officers and suppliers to cooperate with the investigators and find out the identity of the bribe taker.