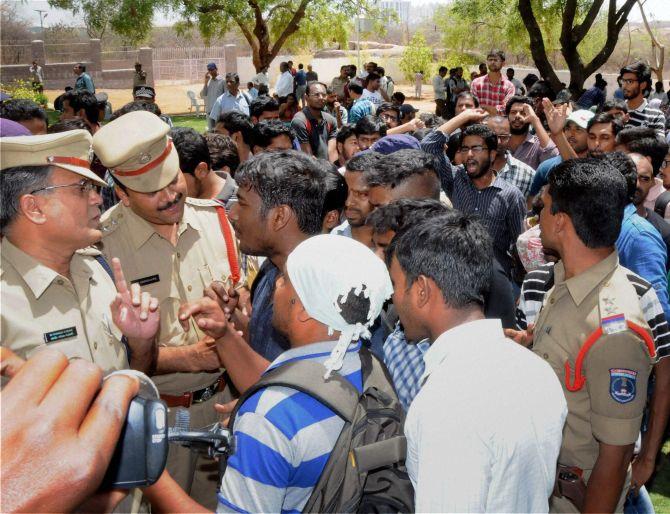 A local court on Monday granted bail to 25 students and two faculty members of Hyderabad Central University who were arrested in connection with the violence on the campus last week during which the vice chancellor's official residence was ransacked.
The students and the two faculty members were released on their submission of sureties of Rs 5,000 each.
The court also directed them to appear before Gachibowli Station House Officer once in a week.
The prosecution informed the XXV Metropolitan Magistrate court at Miyapur Court Complex in Hyderabad that the situation (law and order) is under control on HCU campus and they are not going to oppose the bail applications of all the 27 accused.
"In view of the career of the students we have not filed counter. We have left the court to decide the case on merit. The arrest were made by the police in order to control the situation (on March 22)...without having any personal grudges against anyone", the public prosecutor said.
The defence counsel urged the court to grant bail contending that the allegations which were levelled against the accused are absolutely 'vague' and there is no material to keep them in further detention, and hence, requested the court to grant them bail on personal bonds.
A group of students, who were opposing Prof Appa Rao Podile's return as the VC after a two-month leave following the row over research scholar Rohith Vemula's suicide in a university hostel room, had allegedly vandalised his residence and pelted police with stones on March 22.
Later, police resorted to lathicharge and arrested 25 of them, beside two faculty members. All of them were lodged in Cherlapally central prison in Hyderabad.
Cases were booked on charges of damage to public property, trespass, preventing government officials from performing their duties, and other relevant sections of IPC in connection with the violence.