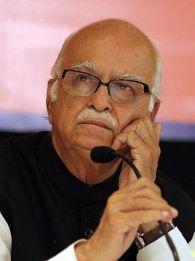 Senior Bharatiya Janata Party leader Lal Krishna Advani on Monday resigned from all posts in the party.
The veteran leader's decision came a day after the party anointed Gujarat Chief Minister Narendra Modi as the campaign committee chief for the 2014 Lok Sabha elections, ignoring his reservations on the matter.

In a letter to BJP president Rajnath Singh, Advani said that he had been finding it difficult to reconcile with the current functioning of the party, and the direction in which it was going.

Confirming Advani's resignation, a senior BJP office bearer said that the motive behind veteran leader's decision could have been to create moral pressure on the party.

He said, "We regret his decision. Advaniji has been sending a lot of suggestions to the party to act upon. As his plans were not accepted by the majority of leaders in the party, he must have felt let down."

"The party will be advancing the planning of the political campaign to show that there is no impact of internal feud on the party in the run up to the 2014 Lok Sabha election," the senior BJP leader added.
Here's the full transcript of Advani's letter to BJP President Rajnath Singh:
Dear Shri Rajnath Singhji,

All my life I have found working for the Jana Sangh and the Bharatiya Janata Party a matter of great pride and endless satisfaction to myself.

For some time I have been finding it difficult to reconcile either with the current functioning of the party, or the direction in which it is going. I no longer have the feeling that this is the same idealistic party created by Dr Mookerji, Deen Dayalji, Nanaji and Vajpayeeji whose sole concern wans the country, and its people. Most leaders of ours are now concerned just with their personal agendas.

I have decided, therefore, to resign from the three main fora of the party, namely, the National Executive, the Parliamentary Board, and the Election Committee. This may be regarded as my resignation letter.

Yours Sincerely
LK Advani