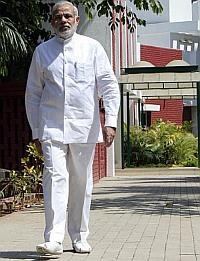 The moderate All Parties Hurriyat Conference has urged the Narendra Modi government to adopt the path of Bharatiya Janata Party veteran Atal Behari Vajpayee with regard to Kashmir.
"The Modi government should adopt the path of former prime minister Atal Behari Vajpayee, who once declared it his dream and wish to resolve the Kashmir issue and proposed talks and a solution under the ambit of insaniyat (humanity)," APHC said in a statement ahead of Modi's visit to Kashmir on Friday.
The APHC further said, "Unless the Kashmir issue is addressed head on, the recent peace overtures between India and Pakistan initiated by Prime Minister Narendra Modi and Nawaz Sharif will not move forward and the people of Jammu and Kashmir will continue to be caught in the tragic impasse."
"The newly-elected NDA government has been given a strong democratic mandate by the people of India. It should now adopt a fresh approach towards a just and lasting solution to the Kashmir issue so that peace, prosperity and stability can become a reality in South Asia."
"Efforts must be focused on finding a solution that accommodates the needs and interests of all parties. The solution will have to be acceptable to all sides and it must reflect the will of the people of Jammu and Kashmir."

Meanwhile, Modi also received a word of caution from religious organisations in Kashmir.

Majlis Itehad-e-Milat, a religious conglomerate, advised the Modi government against creating separate settlements for Kashmiri Pandits who were slowly returning to the Valley.

"They (Kashmiri Pandits) should settle at their ancestral places or other places alongside their Muslim brethren. But the government move to settle them separately would have serious consequences," Kashmir's grand Mufti, Mufti Bashir-ud-Din who heads the conglomerate told media persons.