One Indian student has died after he nearly drowned in a swollen lake in Texas.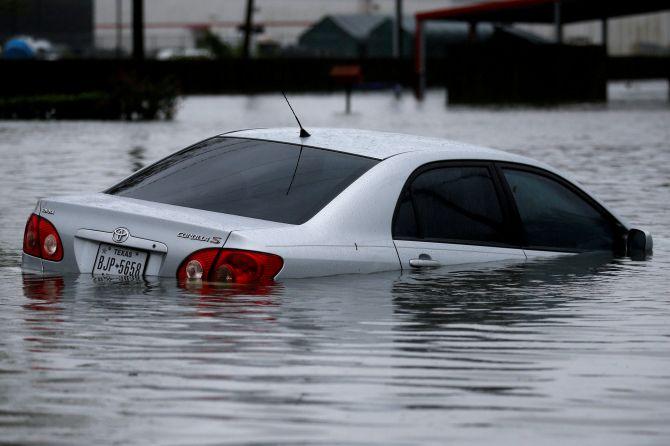 Tropical Storm Harvey on Wednesday made a second landfall near the Texas-Louisiana border, five days after making the first causing widespread destruction in which 30 people have died and tens of thousands rendered homeless.
Harvey, which made its first landfall as a Category 4 hurricane on Friday night near Corpus Christi, made the second landfall, slamming into the Louisiana coast near the Texas border.
The coastal cities of Beaumont and Port Arthur got pummelled with 26 inches of rain in 24 hours -- and it was still raining.
Port Arthur, a city of about 55,000, was in exceptional danger because water from Beaumont is expected to flow towards it, CNN reported.
The National Weather Service reported that some parts of Louisiana have seen more than a foot of rain, and the flash flood warnings were in effect for much of the Lake Charles region as the rainfall is expected to continue.
New Orleans was put under a tornado and flash flood watch until Thursday.
Houston has received more than 42 inches of rainfall so far.
Authorities in Texas's most populous city and energy hub, Houston, have imposed a nighttime curfew.
"There are some who might want to take advantage of this situation, so even before it gets a foothold in the city, we just need to hold things in check," Houston Mayor Sylvester Turner said.
The curfew -- midnight to 5 am -- was announced after police arrested a crew of armed robbers hijacking vehicles, and officials warned residents of people impersonating Homeland Security investigators.
There also were fears of looting as thousands of houses lay partially submerged and abandoned.
Following five days of heavy downpour, a large part of Texas remained submerged, homes flooded and schools and other public offices shut.
Thousands of emergency rescue team officials have continuously been on their toes, helping people affected by the catastrophic deluge, which President Donald Trump has called 'epic' during a visit to the state on Tuesday.
Houston has received rainfall that averages the amount it receives in an year. Weather department officials said parts of the state were expected to receive more heavy rainfall.
At least 30 people have died in storm-related incidents, officials said, fearing the toll could rise since there were reports of people lost following the torrential downpours.
More than 13,000 people have been rescued from flood waters and other devastation caused by Harvey in Houston and surrounding areas, authorities in Texas said.
One Indian student has died after he nearly drowned in a swollen lake in Texas.
More than 100,000 Indian-Americans living in and around Houston have also been badly hit by the monstrous hurricane.
The Indian-American community has rallied themselves around to help people in distress. Indian businesses and places of worship were providing shelters to the displaced.
Sunil Thakkar, a radio jockey by profession, was using his station to provide directions to people to safer places.
"This unprecedented disaster had many volunteers working till three o'clock in the night, monitoring requests, assessing the situation and coordinating assistance," said Achalesh Amar, a community leader.
He described the Greater Houston area, where nearly 200,000 Indian-Americans live, as a 'ghost town'.
The National Weather Service has issued a flash flood emergency -- its most severe flood alert -- on Tuesday night, The Washington Post reported.
A reservoir west of downtown Houston spilled over due to record-shattering rainfall. Officials in Houston were still unable to determine the extent of the tragedy.
Texas Governor Greg Abbott said Harvey is one of the largest disasters America has ever faced and warned against expecting anything resembling recovery any time soon, or a return to the way things were.
"We need to recognise it will be a new normal, a new and different normal for this entire region," he said.
Houston was still conducting emergency operations, with multiple road closures and no access to area hospitals for ambulances.
IMAGE: A car is seen submerged by flood waters from Tropical Storm Harvey in Orange, Texas, on Wednesday. Photograph: Jonathan Bachman/Reuters